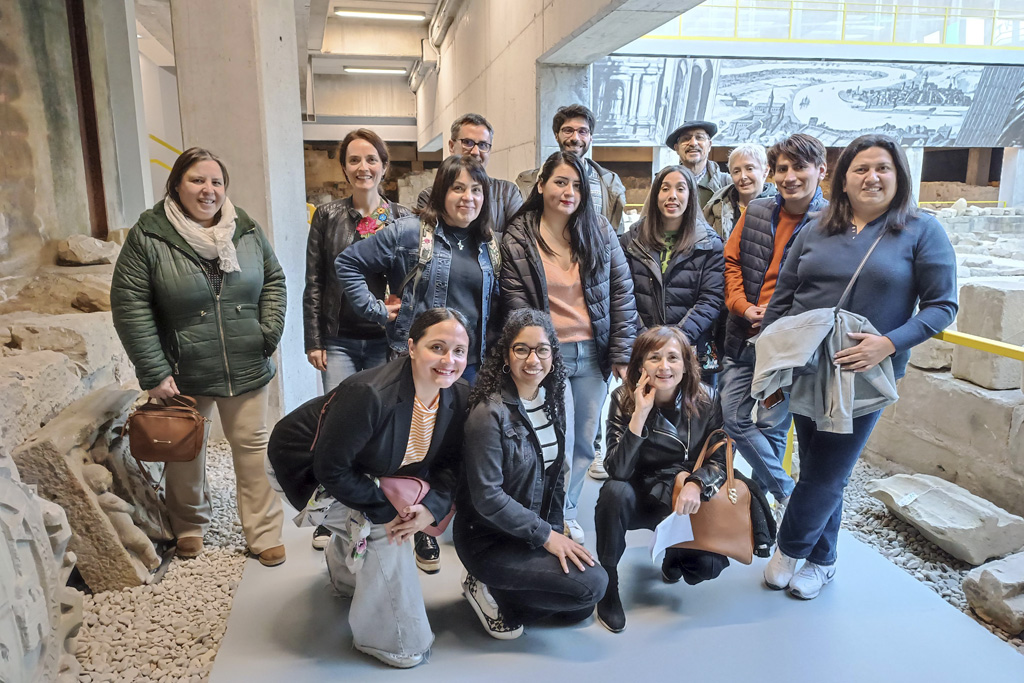 The international community makes a visit to the archaeological site in the Corazon de Maria Square in Bilbao
2023/03/28
A group of fifteen post-graduates and highly qualified professionals and their families enjoyed a guided visit to the site
On the 24th March, several users of the Relocation & Be Basque Dual Career Centre service and the post-graduates from the Be Basque Ambassadors programme took part in a new sociocultural activity organized by Bizkaia Talent. The purpose of these activities is to foster interpersonal and professional relationships and so contribute to greater social integration.
On this occasion they travelled back in time through the history of Bilbao and discovered the archaeological site in the Corazón de Maria Square. This is one of the most interesting urban archaeological sites in the Basque Country consisting of the archaeological remains of the old Convent of San Francisco and the Principe Don Alfonso Military Headquarters.
The recovery of this archaeological site involves the excavation of part of the square and its subsequent resurfacing in an operation which has never previously been carried out in Bilbao. The various different construction stages of the site can be observed, from the earliest remains of the convent, built at the end of the 15th century, up to its final demolition in the 19th century. In the same century a military headquarters was built on the same site and some of its structures are still intact.
The people who took part in the activity come from Argentina, Chile, Ecuador, Italy, Mexico, Peru and the Dominican Republic, and they are currently developing their professional careers in organizations such as Aquino Pérez & Asociados, Bilbao Berrikuntza Faktoria (MU), Bolloré Logistics, Bridgestone EMIA, Idom, Tictec Lab, Deusto University and the University of the Basque Country (UPV/EHU).