Bizkaia Talent will award grants for members of the RED Talentia network to take the Automotive Immersion Programme after entering into an agreement with the AIC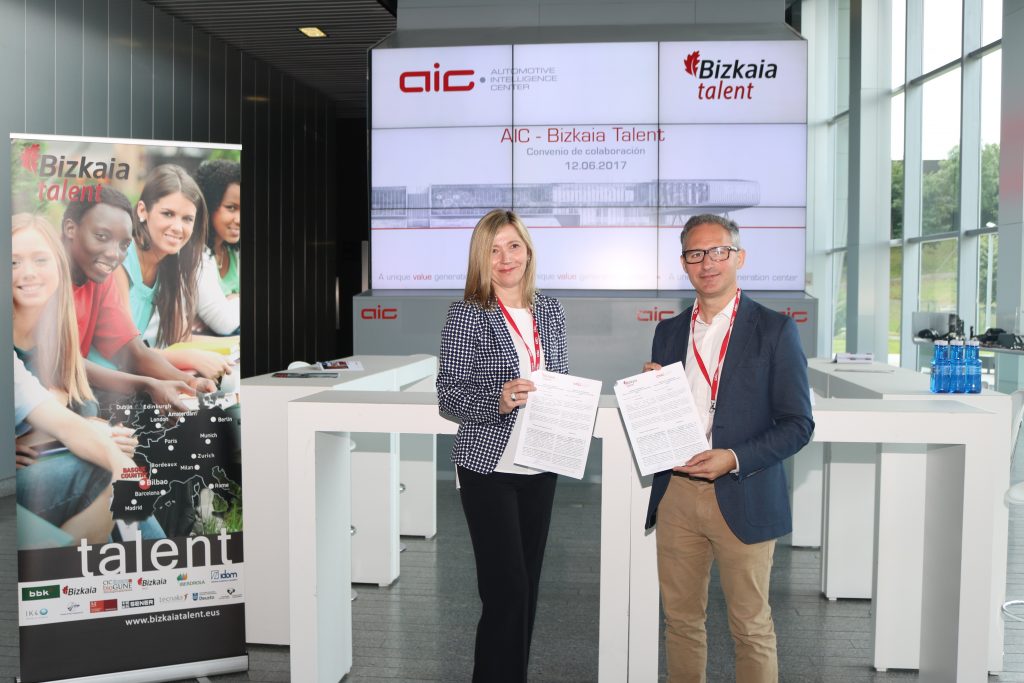 The Association to attract, retain and link talent to Bizkaia – Basque Country keeps forging closer ties with key economic organizations of the territory which may generate a suitable ecosystem for highly-qualified professionals.
Thus, Bizkaia Talent has just entered into a collaboration agreement with the Automotive Intelligence Center (AIC) directed by Inés Anitua. It is one of the main European centres in generating value for the automotive sector based on an open innovation concept where companies improve their competiveness by means of cooperation. With a market-oriented approach, the AIC offers services which make it possible to improve the competitiveness of the automotive sector at the global level by integrating knowledge, training, research and industrial development under a single umbrella.
GRANTS FOR THE AUTOMOTIVE IMMERSION PROGRAMME
Among other measures, "thanks to this agreement, Bizkaia Talent will award grants to members of the RED Talentia network who register to participate in the AIC programme for automotive immersion", says the managing director of the association, Ivan Jimenez.
This initiative, which will take place during the week from 3 to 7 July this year, is aimed at students in their final university and vocational training year in different specialties, such as  Engineering, Business Administration and Management, Marketing as well as new graduates in general.
It is an experiential model with no classrooms or master classes where there will be meetings with top-level experts under the direction of a coordinator, visits to companies, factories, R&D units or centres such as Mercedes Vitoria, Gestamp, CIE Automotive, BATZ, GKN, Bridgestone or Microdeco among others.
Moreover, there will be complementary activities such as the participation in the Basque Automotive Industry 2017 (BAI) event where an award ceremony will be held.
"All those people who form part of the RED Talentia network, irrespective of the year when they participated in the Talentia or Competencies for Professionalism in Bizkaia programmes, can apply to participate through the website http://www.aicenter.eu/cas/index.aspx. They must mention that they are members of the RED Talentia network so as to be eligible for one of the 10 grants, involving the cost of 50% of the registration fee" Ivan Jimenez concluded.
For further information you can see the full AIC programme.