Basque Country and Bavaria launch their industrial collaboration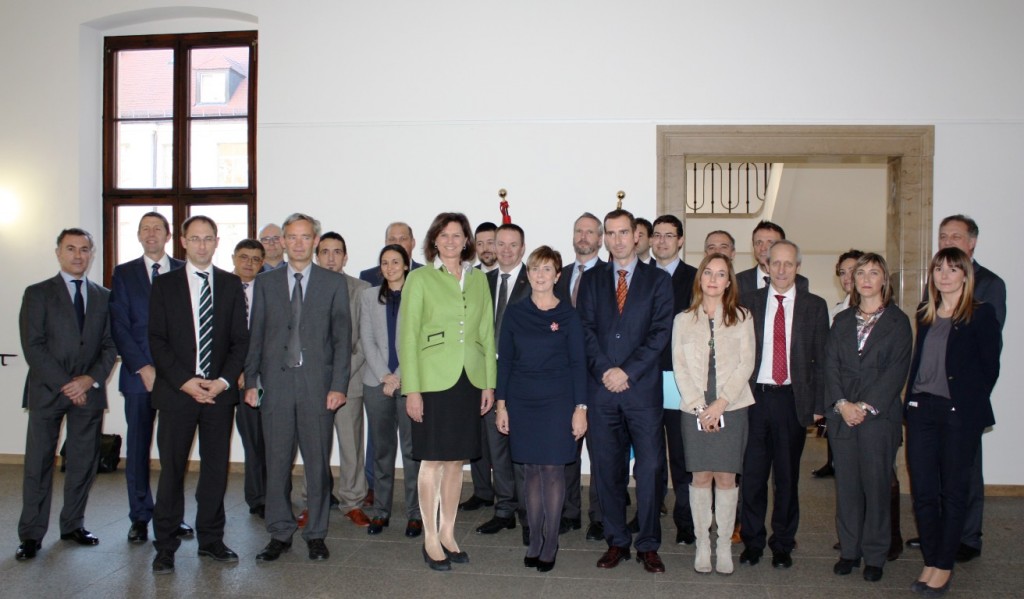 Both governments have involved private business and technology players in a technical and institutional seminar held in Munich. Digitalisation for the Basque Country and cluster policy for Bavaria are points for improvement in which reciprocal assistance is offered. Two events are to be held in 2016, one in Bavaria and the other in the Basque Country, with the aim of strengthening collaboration and attracting investment to both territories.
A Basque delegation, headed by Minister Arantxa Tapia, has travelled to Munich to launch a strategy of collaboration between institutions and economic players in both regions in the fields of industry and technology.
The foundations for the collaboration established at today's event lie in the MOU signed in July 2014 between the Basque Government and the Government of Bavaria, which envisaged various spheres of collaboration that have been verified and confirmed by the maximum authorities in the relevant departments of both Governments, Basque Government Minister Arantxa Tapia and the Bavarian Minister for Economic Affairs, Media, Energy and Technology, Ilse Aigner.
Minister Tapia underlined the importance of European regions working together to strengthen and lead competitive improvement in industry.
Both leaders presided over the setting up of a Technical and Institutional Board with economic, industrial and technological players from the Basque Country and Bavaria, with participants including representatives of the Basque Chambers of Commerce, Confebask, Tecnalia and IK4 research alliance, and the ACICAE, GAIA, AFM and HEGAN clusters. On behalf of Bavaria, a group of counterpart players to those mentioned took part.
The issues analysed and compared by the Board established, as well as at the bilateral meetings between players, focused on the Smart Specialisation Strategies of both regions; the Science, Technology and Innovation Systems; cluster policy; Industry 4.0, and also opportunities that exist for investment in both territories.
Points for improvement: digitalisation in the Basque Country and clusters in Bavaria
Minister Arantxa Tapia presented the Basque competitiveness system, acknowledging areas where improvement is needed, such as ICTs, manufacturing and modelling strategy, and in methods for simulation and prediction tools.
"Having detected our points for improvement, we have seen that Bayern Digital might be an interesting initiative that we could learn from, together with other strategies detailed in Bavaria with regard to ICTs, as a facilitator for manufacturing as a value-added factor".
Both regions coincided in pointing out that cluster policies, more solidly established in the Basque Country than in Bavaria, are key in this collaboration. Clusters in both regions have defined themselves as tools for access to Industry 4.0 innovation and development.
For all the above, Arantxa Tapia made it clear that both regions have something to learn from and something to teach each other.
Open lines between the RVCTI and the Bavarian Fraunhofer
As Minister Aigner explained, work is also ongoing in Bavaria to reduce the distance between research and industrial implementation, and an agreement has been reached to establish fluent relationship channels between the Basque Science, Technology and Innovation Network and the Bavarian Fraunhofer institutes, FORTISS and the Technische Universität München, as well as with the Max Planck institutes and the Helmholtz Centres, that could foster innovation in both regions.
Tapia took the opportunity to explain that the Basque model of Advanced Manufacturing Centres (AMC) is based on public-private collaboration, with Basque Government support in the initial investment and with research centres operating in facilities. It is a model that has given rise to two AMCs, the first in the wind energy sector and the second specialising in aeronautics.
She also announced the creation of a network of showrooms and pilot production facilities linked to Basque Industry 4.0.
To this effect, the spaces identified in Bavaria which might hold special interest opportunities for future collaboration are the fields of energy, automotive and robotics in Munich, and Siemens in Amberg for electronics.
Two annual events to promote investment in both countries
Among other activities, the Basque Country and Bavaria are focusing on the search for foreign investment, while at the same time there is significant trade between the two countries, both in import/export figures and in the location of production plants.
"As Germany is a strategic country for Basque industry, as defined in our internationalisation plan", said Tapia, "and in order to focus our efforts on Bavaria as a destination for foreign investment by Basque industry, we have undertaken to hold two events in 2016, one in the Basque Country, so that Bavaria can show its attractions, and another so that the Basque Government can show Bavarian companies its foreign attraction project, known as "Big Little".