Austrian group Megatech locates its world R&D centre in the AIC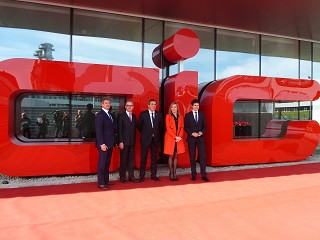 Megatech Industries AG, the Austrian automotive components group, has decided to locate its global R&D&I centre in the AIC (Automotive Intelligence Center) in Amorebieta (Vizcaya). This new deployment was announced during the official opening of the third phase of the AIC, where Gestamp Group is to locate its global training and new materials centres.
---
Maximilian Gessler, Group CEO of Megatech Industries AG, explained that his group, specialising in automotive plastics, will locate development of engineering techniques at AIC, as well as some of its logistics and purchasing operations. For Gessler, the existence of a centre like AIC 'is a clear sign that the Basque Country wants to be a leader in the automotive sector'. 70 highly qualified professionals and prototyping teams will work at this new centre.
Megatech Industries AG is an Austrian group, headquartered in Vienna, which has production plants in Spain (Alava and Vigo), Portugal, Czech Republic and Brazil, in addition to offices in Germany, France and India, with a global workforce of 1,405. Its turnover in financial year 2013 was 143.63 million euros and it expects to raise its sales to 156 million euros in 2016.
In addition to the installation of Megatech Industries, the decision by Gestamp Group to locate its global training and new materials centres in the new facilities also had special prominence at the opening of the third phase of the AIC. Its President, Francisco Riberas, highlighted the commitment made by the Regional Government of Biscay (Diputación Foral de Bizkaia) in promoting the AIC, which has become a meeting point for high technology among different automotive manufacturers.
In the Basque Country, the Gestamp Group has five plants, employing more than 1,600 people, its European management headquarters (responsible for 20 plants that invoice approximately 1,800 million euros per year), its R&D headquarters and its Technology and Equipment centre. Its new global training centre, the new GTI (Gestamp Technology Institute) and the new materials knowledge centre will be operational from next September.
The Gestamp Group in its entirety is present in 20 countries, with 93 production plants, 12 R&D centres, a workforce of more than 32,000 people and it is estimated that sales will exceed 6.2 billion euros in 2014.
The huge commitment of the Regional Government of Biscay
The AIC (Automotive Intelligence Center), with its main base in Amorebieta and another in Ermua, was the huge commitment of the Regional Government of Biscay to support the Basque automotive industry from the perspective of component manufacturers, a subsector that has traditionally had an extensive business fabric in the Basque Country.
The Basque automotive industry invoices more than 13 billion euros per year, consists of about 300 companies with more than 75,000 people working around the world, as there are 230 factories spread over 29 countries. Direct employment generated in the Basque Country stands at around 40,000 people.
Altogether, the Regional Government has invested a total of 77 million euros in the AIC (42 in the first phase, 20 in the second and 15 in the third). The first two phases had European Union backing. The AIC facilities are currently full, housing 27 organisations, which have posted 650 people there, including Basque companies in the sector, but it has also attracted major multinationals such as Volkswagen, Toyota, Gestamp, CIE Automotive, etc.
This high-tech automotive centre was conceived in 2006, during a period of economic growth, before the economic recession arrived. At the opening of its third phase, the Prime Minister of Bizkaia and President of AIC, José Luis Bilbao, recalled that at that time they met the Automotive Cluster Association (ACICAE) and asked what the sector needed to retain leadership within twenty years.
Bilbao stressed that 'now we are reaping the benefits' of that commitment made almost ten years ago, that thanks to this centre 'today we are still building tomorrow' for a powerful industrial sector, with strong roots and which 'has also put us on the map in the automotive sector' and that 'the AIC is our Guggenheim for innovation'.
The inauguration of this third phase was attended by about 200 people, including top level entrepreneurs and executives of a large part of the Basque automotive components industry and engineering firms.