The Basque Country is the most competitive territory in the Spanish state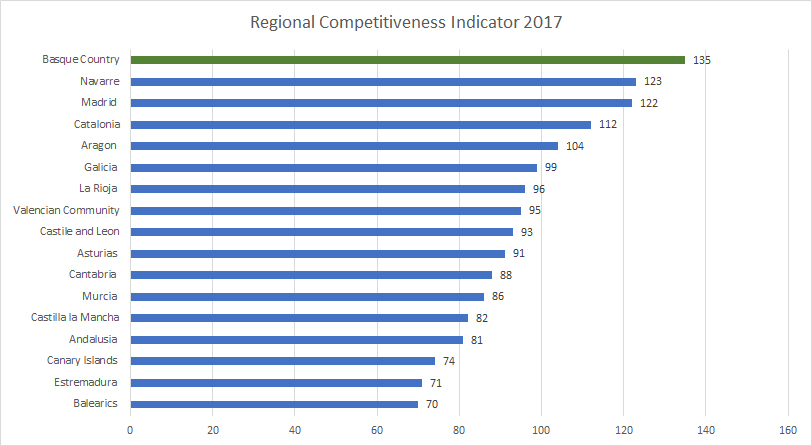 SOURCE: Ceprede 2017
A report by Ceprede highlights its leadership ahead of Navarre, Madrid and Catalonia
The positive evolution of Basque exports, which grew by 13% last year, and the favourable trade balance confirm that the Basque Country is competitive at the international level, but the latest studies point out that it is also the leading territory in the Spanish state as regards competitiveness, according to a report by Ceprede.
The aforementioned Economic Forecasting Centre has published the Regional Competitiveness Indicator (Iscre) which assesses five categories: macroeconomic aspects, labour market, business development, infrastructures and innovation. Altogether, it includes a selection of eighteen internationally acknowledged indicators related to the assessment of competitiveness.
The Basque Autonomous Community has obtained the highest score for 2017, 134.8 out of 100. It is followed by Navarre, with 123.3 points.
An aspect to be positively highlighted is that the highest Basque scores go to two important issues which are innovation (154.7) and business development (157.2), followed by infrastructures (129.7), macroeconomic aspects (123.6) and labour market (108.7).
EXPORT AS A KEY FACTOR
This Basque leadership in competitiveness is reflected in the exports, In such a way that Basque exports have grown by 5.41% in five years, according to a report by Deutsche Bank on the evolution of the exporting sectors in the Spanish state.
The report of the German bank points out that the automotive and machinery sectors are the leading sectors in Basque exports, specially the automotive and automotive components industry, which takes the first position in Basque exports, with 25% of the total and a staggering 52% growth in recent years.