The Be Basque Talent Meeting held in Geneva and attended by highly qualified professional Basque people from the area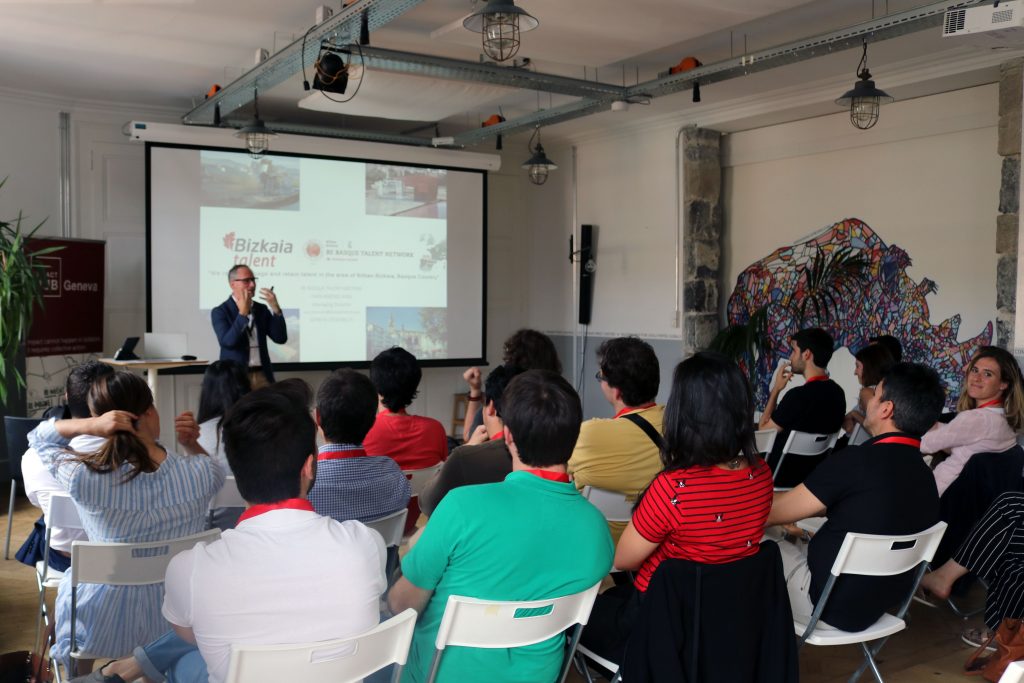 Bizkaia Talent has organized a new meeting to connect Basque talent with our country.
On the 15th June Bizkaia Talent held a new edition of the Be Basque Talent Meeting in Geneva with the aim of linking up with highly qualified Basque professionals who are resident in Switzerland and informing them about world trends in the labour market, and about the experience and skills currently in demand in Basque Country companies with a view to their possible return to our country.
Some thirty professionals attended the event. These people are currently employed in organizations such as AC Immune, ADAM, CERN, COMSA Corporation, Elca Informatics, ETEL SA, Fehlmann Architectes SA, HighPoint Solutiomns, Implenia Suisse SA, Innova Capital SA, KPMG Switzerland, Lemanarc SA, Philip Morris International, Puig, UCB, Lausanne University (UNIL) and the Wyss Center for Bio and Neuroengineering, amongst others.
The Managing Director of Bizkaia Talent Ivan Jimenez spoke about the work opportunities that currently exist in the Basque Country labour market, about the professional profiles that are most in demand and about forecasts for the future based on the information provided by various different organizations and cluster associations. Bizkaia Talent initiatives and the Gipuzkoa Talent stategy, which are currently being developed to manage talent in the Basque Country, were also presented at the event.
Mr Jimenez stressed the importance of the Be Basque Talent meeting conference as a tool that serves to maintain active links between the Basque Country and Basque professionals who are developing their careers abroad. "The international experience which you can bring to the Basque Country and its companies is something that we wish to value when we are with you personally and put our technological platforms at your disposal", Mr Jimenez stated.