The President of the Provincial Council of Biscay presents the diplomas to the participants in the seventh edition of the Talentia Programme and Skills of bizkaiatalent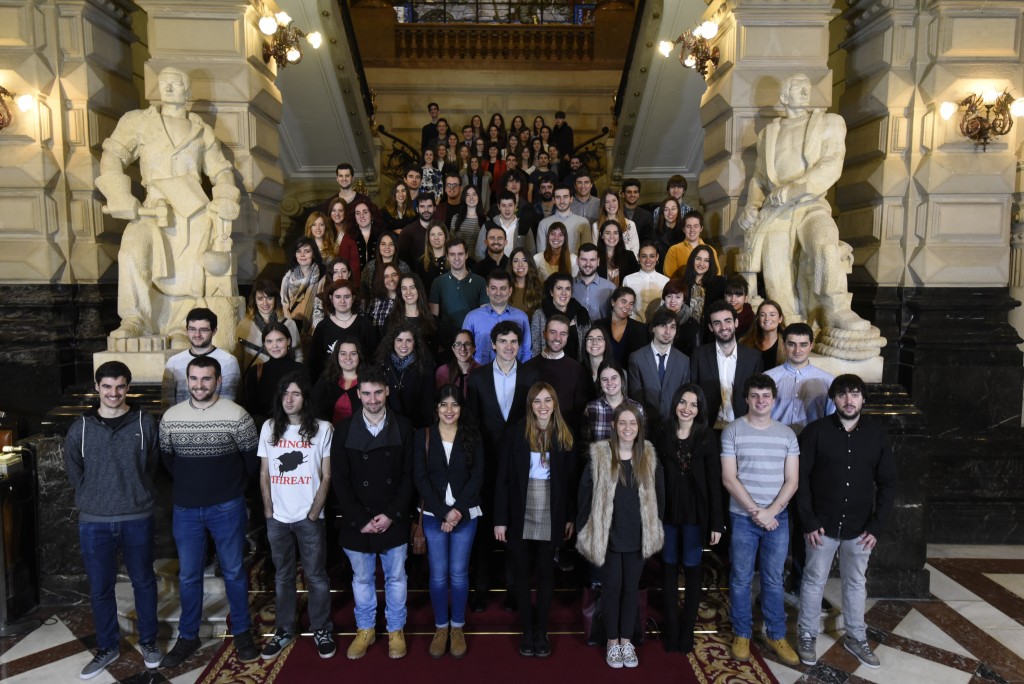 The Deputy General has accepted the challenge that young people can develop all their talent in Bizkaia. And so it has been transferred to the hundred students who have come to the Foral Palace to receive from the hands of Unai Rementeria the diploma that accredits their participation in the talentia program of the Diputación Foral de Bizkaia: "Talent has the key to the future of Bizkaia . And it is up to us that this talent can be fully developed here. The Diputación de Bizkaia accepts this challenge. "
There have been more than 250 young people who have taken part in this seventh edition of Talentia, for which they have been previously selected by the three Basque universities. The vice-rectors of the University of Deusto, the Basque Country – Euskal Herriko Unibertsitatea and Mondragon: Jóse Antonio Rodríguez Ranz, Patxi Juaristi and Jon Altuna, as well as the regional deputy for Economic and Territorial Development, Imanol Pradales and the managing director of bizkaia talent, Ivan Jimenez.
"I have clear that investing in people is investing in Bizkaia," said Unai Rementeria. The Deputy General has bet on the training and talent of the people as the great added value that will advance the territory: "Bizkaia needs talent. Bizkaia can not compete in the global market by critical mass, nor by natural resources, nor because it is a low cost territory. But Bizkaia can compete in talent, in well-formed people and with values. Professionals who bring added value wherever they go. "
In this sense, Rementeria has reflected on the need for knowledge and talent to be transferred from universities and technological centers to companies, to connect the opportunities: "And that is why I ask the whole ecosystem that generates talent to break the Walls, that collaborate more with each other and add. Because talent is the key to our future. A future that we have to design today and that we have to build among all ".
The TalentiaProgramme
Talentia is a programme managed by bizkaia talent which aims at guiding the students from Bizkaia with the highest potential at the three Basque Universities towards adequate job placement and professional development as well as supporting their engagement with the scientific, technological and business reality around them.
As explained by the regional deputy for Economic and Territorial Development, Imanol Pradales, 91% of participants in the seven editions have found work in less than a year after completing the program, and value their work with a degree of satisfaction of the 8.2. In addition, 89.7% of the working talentias do so in the Basque Country.
In its seven editions, 1,150 students have been selected by the Basque universities themselves: Deusto, UPV / EHU and Mondragon, among the students with the best academic records and other skills assessed by each center. These are students of last year of career who between mid-February and early July receive advice and personalized information for their work and professional orientation. In this way, they participate in professional and sector meetings, in technical visits and workshops.
The eighth edition of Talentia is already under way with the participation of 282 young people and the slogan "Connect your talent".