BIND 4.0 of the Basque Government winner of the European Commission Awards for Business Promotion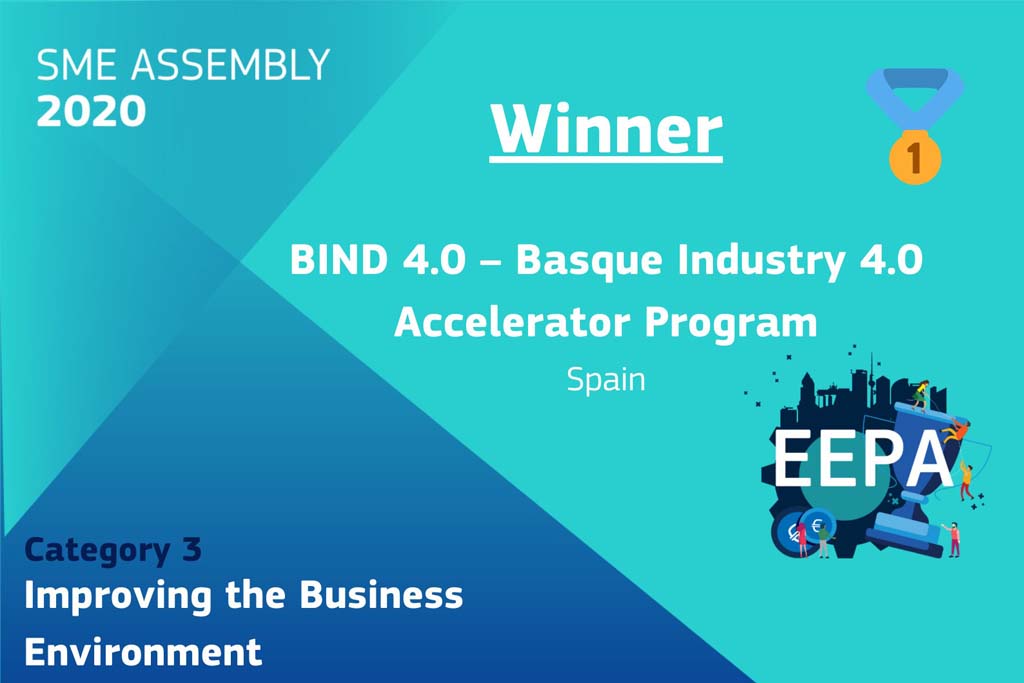 It has been awarded in the category of improving the business environment, during the celebration of the annual Meeting of SMEs in Berlin
The smart industry open innovation platform, BIND 4.0, has been selected as the winner in the 14th edition of the European Awards for Business Promotion, organised by the Directorate General for Internal Market, Industry, Entrepreneurship and SMEs of the European Commission, in the business environment improvement category. The award has been announced at the Annual Meeting of SMEs in Berlin, held on 16 November. This award recognises local, regional and national policies to promote entrepreneurship.
Its candidacy was selected among 13 other proposals, in which national, regional and local administrations participated, as well as public-private associations and business organisations that develop actions to promote entrepreneurship and boost the economy.
BIND 4.0 is an open innovation platform promoted by the Basque Government and the main global companies with a presence in the Basque Country, such as Siemens Gamesa, Unilever, and Mercedes Benz, among others. This programme stimulates the interaction between companies and startups, in order to promote innovation and digital transformation in the fields of industry, energy, food, and health.
It consists of an international public-private initiative, with three fundamental objectives: to accelerate the development of startups in the Basque industrial ecosystem, to promote the digital transformation of companies, and to position the Basque ecosystem as a hub for advanced industrial entrepreneurship. Since the start of the programme in 2016, more than 100 startups have been accelerated and more than 170 projects developed.