The highly-qualified users of the Relocation service of Bizkaia Talent reach the heights of Bizkaia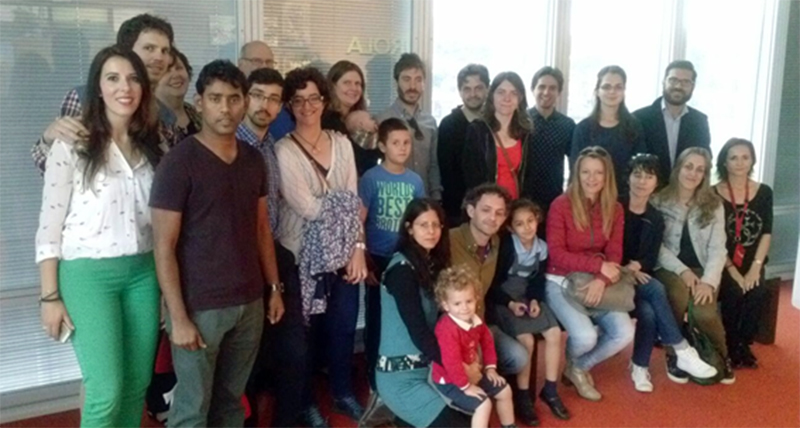 Last Friday, 12 May, around 25 highly-qualified professionals together with their families had the opportunity to enjoy the incredible and original exhibition Memory regained. Traces in the history of the United States within the socio-cultural integration activities carried out by the Relocation service of Bizkaia Talent. All the participants are users of this service, which provides them and their families with guidance and personalized professional advice on social and labour integration matters.
During the visit to the exhibition held on the twenty-fifth floor of the iconic Iberdrola Tower of Bilbao, the guide explained the not well-known contribution of the Hispanic Monarchy to the creation of the United States of America.
The exhibition pays special attention to the contribution of Basque people to exploration, navigation and trade, as well as immigration in North America, from the start of the Hispanic presence in the continent to the 20th Century. After the visit some of the participants took part in several informal chats in order to network and share news about their respective organizations.
 INTERNATIONAL ACTIVITIES
As usual in this kind of socio-cultural integration activities organized by the Relocation service, the diversity of origins of the participants was remarkable. On this occasion, the highly-qualified professionals and their families came from places as diverse as Guatemala, Extremadura, Basque Country, the Netherlands, Italy, France, the USA, Poland, Israel, Navarre, Rumania, Albacete, India, Korea and Madrid, among others.
All these professionals are developing their professional career in Basque organizations such as Tecnalia, ORKESTRA, BC3, Biocruces, BCAM, Deusto Business School, University of Deusto, BCMaterials, EGA Master and Osasen Sensores.