Bizkaia Talent presented the first report of the Basque Talent Observatory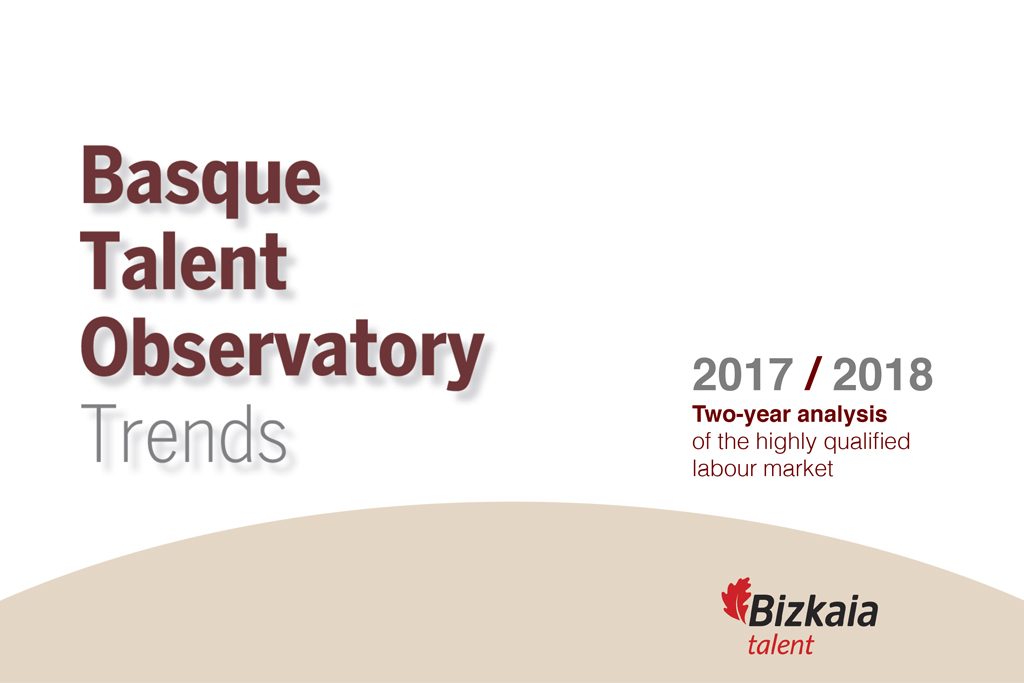 The report features a comparative analysis of the last two years by sector, occupation and skills in greatest demand in the Basque labour market for the highly qualified
Bizkaia Talent has presented its report "Basque Talent Observatory: trends" which analyses trends in the Basque labour market in 2017 and 2018 by means of the Basque Talent Observatory. Created by Bizkaia Talent, the Basque Talent Observatory is a tool for the collection of information in real time about the labour market for the highly qualified with the requirement of a Basque Country university degree, using online sources and based on Big Data analysis which provides a consistent ongoing representation by means of the study of talent requirements.
After analysing some 34,030 job offers from the 1st January 2017 to the 31st December 2018, Bizkaia emerges as the province with the most offers for the highly qualified over both the years in question, and the trend is increasing, from 49% in 2017 to 54% in 2018. The services sector posts the most job offers with 75.29% and 72.29% respectively over the last two years, a long way ahead of the industrial sector which also registered major growth in job offers from 16.29% in 2017 to 21.12% in 2018. The commercial sector lies in third place.
The industries/sectors or economic activities which posted the most job offers remained stable over 2017 and 2018, although there is a marked growth between the first and second year in the areas of manufacturing, education and public administration. The sectors related with professional activities, scientific and technical, information and communications, and manufacturing retain their positions in the top three of the ranking.
The study also indicates that the five most demanded occupations in the highly qualified labour market are industrial engineers, software developers, sales-related professionals, mechanical engineers and systems analysts. It is worth mentioning that the latter increased between the first and second year, as did research and development managers, other types of engineers, draftsmen and designers.
Finally, we should mention that the skills most demanded by the labour market over the last two-year period are foreign languages, computer skills, adaptation to change, customer attention, teamwork, project leadership and creative thinking. Special emphasis should be placed on English, customer attention and customer service and project leadership, all of which are increasingly in demand.