The international community makes an excursion to Mount Serantes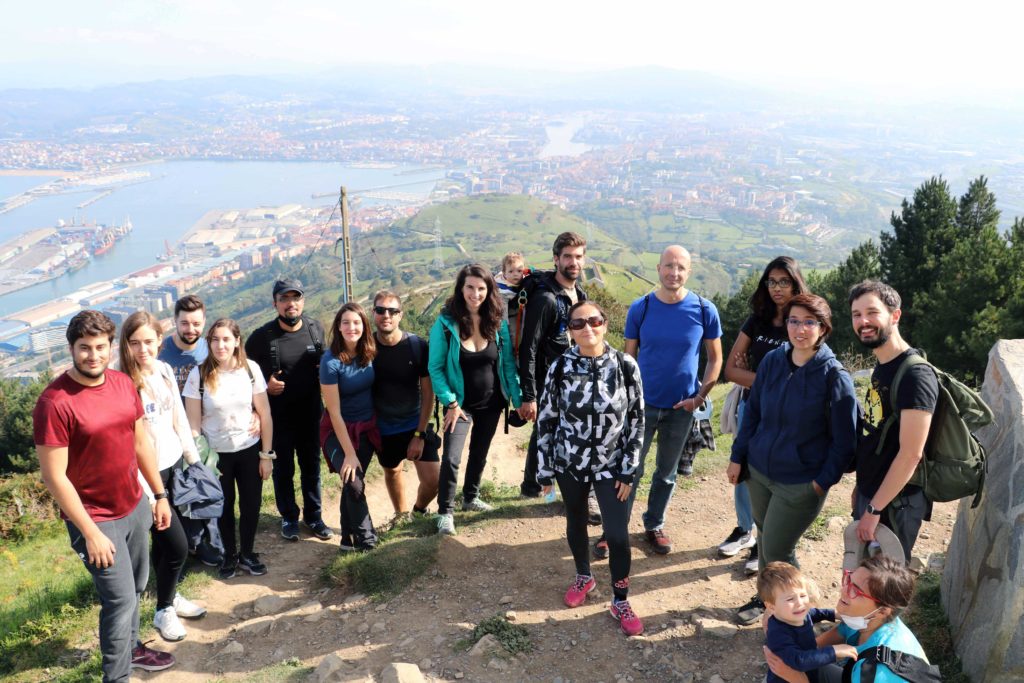 A group of fifteen highly qualified international professionals hike through the forest on Mount Serantes to discover the biodiversity of this natural environment and visit its fortifications.
One of the main aims of Bizkaia Talent's Relocation & Be Basque Dual Career Centre Service, apart from informing and advising highly qualified professionals, research workers and their families who have settled in Bizkaia for work-related purposes, is to foster interpersonal and professional relationships in order to facilitate better social integration.
Along these lines, on the 16th October Bizkaia Talent carried out its first sociocultural activity in the last 20 months: a walk to the top of Mount Serantes, one of the finest vantage points along the coast of Bizkaia.
Taking advantage of the good weather, the professionals and their families hiked up to the summit of the mountain where they were able to enjoy views over Greater Bilbao and the Cantabrian Sea and discover the biodiversity offered by the spot, the Hermit's Cave, the fortifications and the turret, together with the environmental project "Serantes Natur Eskola" (Serantes Nature School), a nature conservation and education programme at the local level.
When they reached the fortifications, Iñigo Urrutia, an environmental expert and the coordinator of the aforementioned project, explained to the group how and why the project was initiated: for the creation and conservation of natural habitats in the environment of Santurtzi's Mount Serantes in tandem with environmental education.
The professionals who took part in the activity come from a number of countries such as Hungary, India, Iran, Italy and the United Kingdom, as well as from the Spanish State. All of them are currently working at organizations such as BCAM – the Basque Center for Applied Mathematics, CIC bioGUNE, Ikerbasque, UPV/EHU University, the University of Deusto and Zabala Innovation Consulting.
Next activity: Urban Gymkhana
The next activity will take place on the forthcoming 20th November in Bilbao and this will be an urban gymkhana in which the participants will have the opportunity to discover the secrets of medieval Bilbao.