Bizkaia talent responds to more than two hundred inquiries at the tenth edition of Naturejobs Career Expo held in London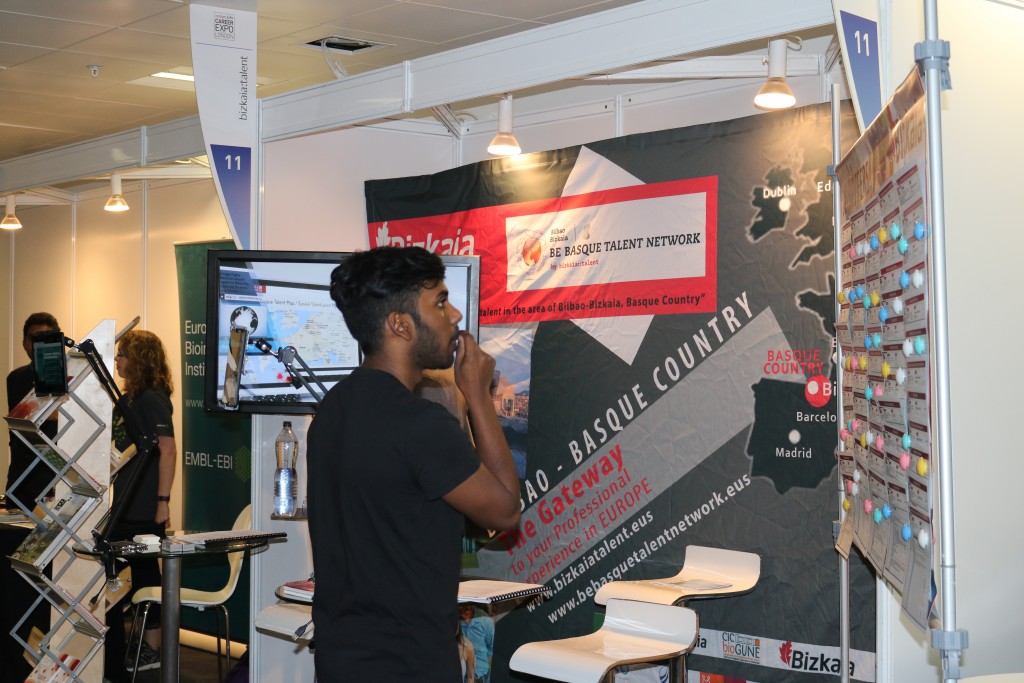 As in previous years, bizkaia talent has participated in the tenth edition of Naturejobs Career Expo held in the Business Design Centre in London on 16 September. The Association travelled there to represent various organizations and companies of the Basque Country which need to take on highly-qualified staff.
Naturejobs Career Expo is the most important scientific employment fair held in the United Kingdom. Every year it brings together graduates, doctoral students and postdocs in Physics, Chemistry, Life Sciences, Mathematics and Medicine as well as young university students seeking a career change. The main aim of this fair is to promote Europe as the ideal place to develop a career in the field of science, either in industrial research, in research organizations or at university. Thus, this event is a meeting place for the best opportunities in the best public, private, national and international organizations.
As in previous years, bizkaia talent had its own stand and attended this international event in London to locate and engage highly qualified professionals and researchers in strategic areas for our Historical Territory, with special emphasis on Basque professionals residing in the area of London, and to promote and inform about the highly qualified employment opportunities offered by our territory.
On this occasion, bizkaia talent represented several Basque organizations such as BBD BIOPHENIX S.L.; BC3 BASQUE CENTRE FOR CLIMATE CHANGE; BCAM – BASQUE CENTRE FOR APPLIED MATHEMATICS; CEIT; CIC ENERGIGUNE: ALTERNATIVE ENERGY RESEARCH CENTRE; ERLE ROBOTICS; AZTI FOUNDATION; CIDETEC FOUNDATION; TECNALIA RESEARCH & INNOVATION FOUNDATION; GRAPHENEA SA; IK4-IKERLAN; INT-BUSINESSDESIGN, LLC; IRUA TECH INDUSTRIES; LIMIA; MAIER, S. COOP.; NUEVAS ESTRATEGIAS DE MANTENIMIENTO, S.L.; UNIVERSITY OF DEUSTO; UNIVERSITY OF THE BASQUE COUNTRY and VICOMTECH-IK4, so as to find and attract 64 highly-qualified professionals in the scientific-technological sphere. The inquiries and requests of more than 200 researchers interested in the fifteen professional vacancies which were presented as well as in working and reinforcing the link with the Basque Country were dealt with at the stand of bizkaia:talent.
More than 50 exhibitors from countries such as Germany, France, the Netherlands, Scandinavia, Switzerland, Poland, United Kingdom, Belgium, Italy, Qatar or Singapore participated in the latest edition of the scientific employment fair, Naturejobs Career Expo, which was attended by more than 1,200 people of 95 different nationalities.