The Basque Country, at the forefront of renewable energy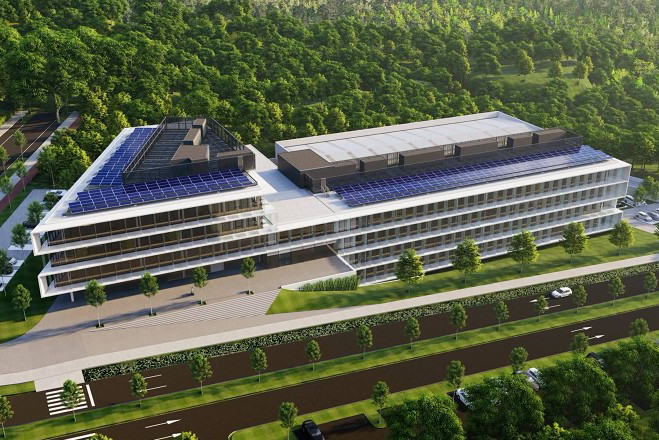 Bizkaia initiates construction work on the Energy Intelligence Center and will also boast a synthetic fuel plant and the first marine wind energy platform in the Spanish State
Alava will be home to the Basque Country's largest solar energy plant
The strategic global consultancy firm McKinsey & Company claims that investment in renewable energy and energy efficiency creates three times more employment than investing in fossil fuels. The amount of the Basque Country's industrial fabric which is closely linked to renewable energy is extensive and first rate in international technological terms. Along these lines, the Provincial Council of Bizkaia has put out to tender the construction work for the headquarters of the Bizkaia Left Bank Technology Park. This building will house a centre for technological advancement in the energy sector, the Energy Intelligence Center, a project whose aim is to make Bizkaia and the Basque Country into an international reference point in the field of energy. The construction work is due to commence in November and is expected to be finished in August 2022.
Furthermore, the energy company Repsol is to invest 80 million euros on two major decarbonization industrial projects which it will develop in the port of Bilbao to produce zero emission fuel from 2024. The first project will involve an investment of 60 million euros and the largest zero-emission synthetic fuel production plant based on green hydrogen which will be generated using renewable energy. The second project will involve an investment of 20 million for the construction of a plant which will generate gas from urban waste matter.
On the other hand, and regarding the implementation of marine wind energy, the public company BIMEP (Biscay Marine Energy Platform) will install the first floating wind turbine in the Spanish State off the coast of Bizkaia, more specifically opposite the town of Armintza. This is due to start functioning in October 2021. This full-scale initial prototype of a wind energy infrastructure connected to the electricity grid is designed to provide sufficient energy to satisfy the needs of 2000 households.
The province of Alava is also making a major commitment to renewable energy. The Basque Country's largest solar energy farm is to be located in the town of Armiñon. This is the fruit of a public-private sector collaboration agreement between Iberdrola, the Mondragon Group, the Provincial Council of Alava and the Basque Energy Organization (EVE). This photovoltaic energy plant will provide for the electricity needs of 160,000 citizens and will prevent the emission into the atmosphere of 25,000 tons of CO2 per year. It will start operating in 2023 with an initial investment of 70 million euros.
Energy, a mainstay of the Basque Country
The energy sector is a fundamental mainstay of Basque industry. Nearly 350 companies in the Basque Country are connected to a sector whose global turnover is 47,000 million euros, 15,000 million of which correspond to the Basque Country. The Basque energy sector generates 63,000 jobs around the world, 21,000 of which are in the Basque Country.