Basque Country is waiting for you
Getting ready for the future
Bilbao's transformation in the economic, industrial and financial spheres has turned it into a top tourist destination, a business nerve centre and a crossroads to attend conventions and meetings.
In 1992, the City of Bilbao established Bilbao Turismo, whoseBilbao Convention Bureau is the department promoting the town as a MICE destination. In addition, the Provincial Council of Bizkaia publishes an online guide with useful information on the Historical Territory of Bizkaia, and information about the events, trade shows and conventions held in Bizkaia.
Some of the leading trade shows held in Greater Bilbao are:
The International Machine-Tool Exhibition (BIEMH), staged every two years at the Bilbao Exhibition Centre (BEC), is considered to be the third largest event of its kind in Europe. It attracts manufacturers and dealers as well as national and foreign trade members who come to learn about the latest technologies and tools, and meet the big companies in the machine-tool industry.
International hardware fair staged at BEC, Ferroforma draws manufacturers, dealers and trade members from all over the world. Simultaneously, the DIY international fair, Bricoforma, is held in the same venue in Bilbao.
This long-established trade show in the Spanish State, first run in 1993, attracts computer professionals and amateurs who come together to share expert knowledge, files and experiences, and to participate in activities related to the world of computers at the Bilbao Exhibition Centre. Visitors can also get one-day tickets which do not entitle them to connect to a computer. Thousands of youngsters come to play, watch TV shows, share files, enter competitions and attend talks, courses and workshops.
A great number of exhibitors and event planners take part in this bridal expo to display the wedding services they offer. Wedding venues such as restaurants and hotels, travel agencies, photographers, jewellers, florists, beauty salons, musicians, wedding dress stores and many other suppliers come together at the biggest bridal expo staged year in, year out at BEC. In the event, brides and grooms can find the latest in wedding services plus inspirational ideas for their big day.
This travel fair showcases products and services provided in the travel industry. Here visitors can find trips and an array of travel deals, the latest news, trip ideas for domestic or international destinations, leisure services, and more. The trade show, which has been held for 30 years now, attracts the best professionals and businesses in the travel industry. Visitors at the Bilbao Exhibition Centre can expect a glimpse of what awaits them in a variety of travel destinations.

International companies in the fishing, port, shipbuilding and marine renewable energy industries attend this exhibition taking place at the Bilbao Exhibition Centre. The event attracts visitors (mainly shipbuilders and shipowners) from the Basque Country, the Spanish state and beyond. The Sinaval-Eurofishing organisers expect it to be a focus for the promotion of companies in the above-mentioned industries.
Sinaval-Eurofishing has become the largest event of its kind across the Spanish state. There are seminars, technical meetings, exhibitions and a business brokerage programme where brokers help companies find potential international buyers, sign contracts and create working groups with the support of institutions.
Bizkaia holds not only expos in the construction, machinery or technology industries but also renowned cultural events like the Durango Basque Book and Record Fair, aimed at promoting Basque culture. First staged first in Durango in 1965, Azoka, as it is called in Basque, displays a variety of cultural products for all and sundry, with more than 300 activities (workshops, concerts, talks, presentations, etc.) and a high number of stands. Held at Landako Gunea, the fair is the ideal place to find the latest releases from publishing houses and record labels based in the Basque Country, and serves as a meeting point for Basque-speaking people and those who are enthusiastic about Basque literature and music.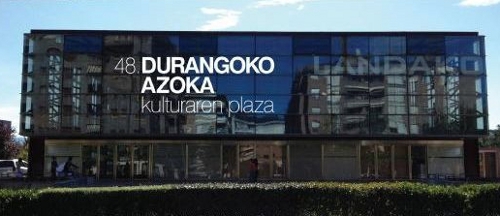 Fair, meeting and conference venues
Bizkaia has a number of new venues, built in the past few years to hold big fairs and conferences: Bilbao Exhibition Centre (BEC),Euskalduna Conference Centre and Concert Hall, Guggenheim Museum Bilbao and Alhóndiga Bilbao, among others.
With its convenient location and huge size (over 150,000m2), theBilbao Exhibition Centre (BEC) is one of the most popular venues for fairs, conferences and meetings. Opened in April 2004 in Barakaldo, it features six halls and a convention centre of more than 4,700m2. In addition to fairs and conferences, it holds concerts and sports events as well.
But there is more. Bilbao is home to the Euskalduna Conference Centre and Concert Hall, a 53,000m2 building that holds congresses, seminars, press conferences, etc. It was granted the coveted Apex Award for World's Best Conference Centre in 2003, recognising excellence in congress centre management and operation. Additionally, it was the first convention centre in the Spanish state to get the Q label for tourist quality.
The Euskalduna Conference Centre has hosted medical conferences such as the SEIMC Conference on Infection Diseases and theSEMFYC conference organised by the Spanish Society of Family and Community Medicine in 2012. In February 2013, the venue played host to the National Hospital Congress, and it is staging the National Ophthalmology Conference in 2014 and the National Gynaecology Conference in 2015.