Basque Country is waiting for you
Get to know us
Contained in a comprehensive plan to revitalise Bilbao and the surrounding area in the cultural, economic, social and urban spheres, the Guggenheim Museum and the Euskalduna Conference Centre and Concert Hall have definitely met their goals. The Guggenheim Museum has lived up to the expectations everybody had placed on it, at the artistic and cultural as well as the economic and social levels, while the Euskalduna Centre, one of the leading conference centres in the Spanish state, doubles as a major concert hall as well.
Euskalduna Jauregia – Conference Centre and Concert Hall
Designed by architects Federico Soriano and Dolores Palacios,the Euskalduna is a singular building created to become a landmark in renovated twenty-first-century Bilbao. It looks like the last ship built, aground on a deck of the former Euskalduna shipyard, which sat on the same site.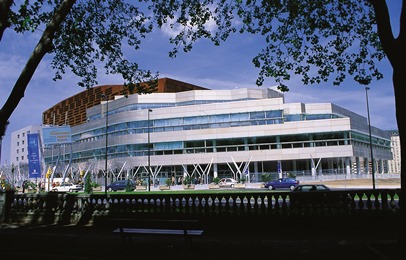 Accommodating more than 4,200 people, the Euskalduna Centre covers 53,000m2 distributed in a huge auditorium with a capacity of 2,164 spectators and a 1,770m2 stage, plus 18 separate halls for simultaneous performances or activities. Its versatility makes the Euskalduna an ideal place for holding all types of events: conferences, meetings, presentations, exhibitions, concerts, theatre plays, etc. It was chosen as the best World Conference Centre in 2003.
Euskalduna, a multi-function building
The Euskalduna Centre has certainly met its goal of holding the maximum possible number of events every year, becoming one of the leading entertainment venues in town. It puts on many of the theatre plays and music shows going on in Bilbao every year, including modern and classical performances, zarzuelas and operas.
Moreover, there is a Michelin-starred restaurant, Etxanobe, inside. Run by Fernando Canales, the Etxanobe combines traditional and a more creative cuisine. The Centre is home to a second eatery, the Jauregia Restaurant, offering catering services for events like congresses, presentations, gala dinners, lunches or business meals. It was the first Basque restaurant to get the Tourism Quality Certification, certifying quality in all aspects of the restaurant business.