Basque Country is waiting for you
Our particulary identity
It is widely known that one of the great treasures of the Basque Country is its gastronomy, represented internationally by aroundtwenty restaurants with a Michelin star and by renowned chefs, such as Berasategui, Subijana, Arzak, Aduriz, Atxa, etc., who have elevated Basque culinary prestige to the Mount Olympus of haute cuisine.
However, the gastronomic tradition of the Basque Country goes beyond the five-star restaurants or the sophisticated signature dishes, which are just the spearhead of this deep-rooted 'ritual' which, for the Basques is synonym to preparing a dish and sitting around a table to savour it without haste. Here is where thegastronomic societies, or 'txokos' come into play, real temples of good food.
These private establishments represent an important base for the Basque culinary culture. They are places to express oneself gastronomically in this 'altar' into which the kitchen of any worthy txoko is turned, whilst sharing leisure time with friends and relatives.
Here, members are responsible for doing everything, from doing the shopping (or hunting, fishing, picking, etc.) to clearing the table. It is also traditional to sing as a group during or after the meal, although card games or discussions on traditional sports or football are just as popular.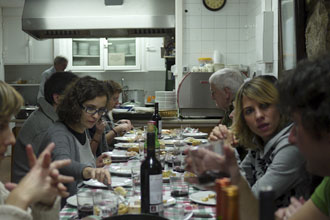 According to data from sociedadesgastronomicas.com, there are 1,552 gastronomic societies in the Basque Country: 785 in Gipuzkoa, 458 in Bizkaia and 214 in Álava-Araba, with over 32,000 members. It is not surprising that Gipuzkoa concentrates most of these establishments, as it was in this Historical Territory where they emerged in the middle of the 19th century.
It is precisely in its capital, Donostia-San Sebastián, where the first gastronomic society came about: 'La Fraternal', founded in 1843.The increase in industrialisation and the movement of the population from the country to the city gave rise to the emergence of these spaces, which took over from the cider houses of the rural areas as urban meeting points around a table.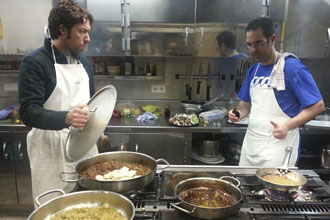 From then on, the gastronomic societies extended to the rest of the Basque Historical Territories. Nowadays, this phenomenon has also spread to different countries of America, where a significant Basque colony has settled.
In short, gastronomic societies are a paradise for the demanding and sociable gourmet, where they eat, sing, play, debate, "resolve the world's problems", etc. in a relaxed atmosphere like nowhere else.
Images: www.sansebastianturismo.com