The Basque Country among the most prosperous regions in Europe, according to the German Institute of Urban Affairs

A projection of the poverty risk of European regions in 2020, prepared by the German Federal Institute, forecasts one of the lowest social exclusion rates in Europe for the communities of the Basque Country and Navarre  
Social and economic inequality in Europe has increased and has opened a gap which goes beyond the differences between those who live comfortably and those who cannot afford their basic needs. There is also a clear geographical division of well-being which can now be observed and which, according to the forecasts by many organizations, will get worse in the next years.
The map uses different colours for the European regions according to the estimated percentage at risk of poverty or exclusion in 2020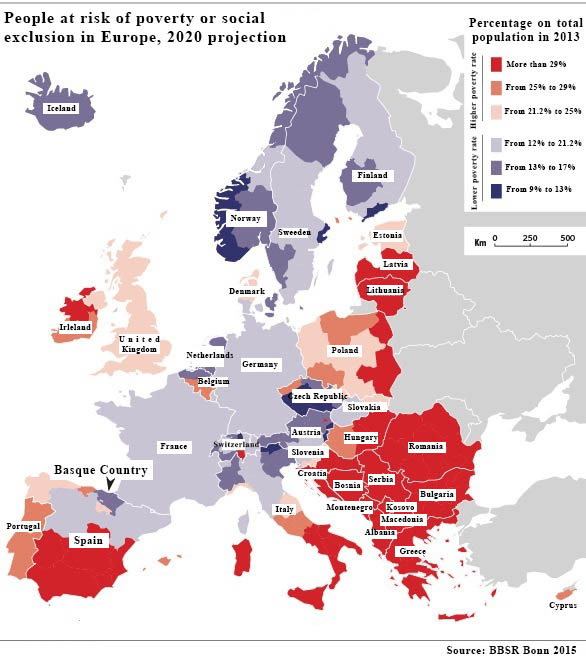 From the six poverty risk ratings used by the German Institute of Urban Affairs, seated in Bonn, the Basque Country obtains the second best, whereas the first –in dark blue in the map- is reserved for small areas in Switzerland, the Czech Republic, Slovenia, Norway, Sweden and Finland.
As for the Spanish state, it has two well-distinguished parts. The southern half of the State- which includes Andalusia, Extremadura, Castile-La Mancha, Murcia and the Valencian Community- is in red, which indicates that more than 29% of its inhabitants will be in or at risk of poverty within five years. In the northern half of the peninsula the German Institute uses four colours: orange for Cantabria and the Balearic Islands (it is estimated that 25% to 29% of the population will be at risk of poverty or social exclusion); pink for La Rioja, Galicia and Asturias (21.2% to 25%); lilac for Catalonia, Aragon, Castile and Leon and Madrid (17% to 21.2%); and purple for the Basque Country and Navarre (the poverty risk will affect 13% to 17% of the population).