Bizkaia Talent participates in the Naturejobs Career Expo in Düsseldorf with more than 125 employment offers from Basque organizations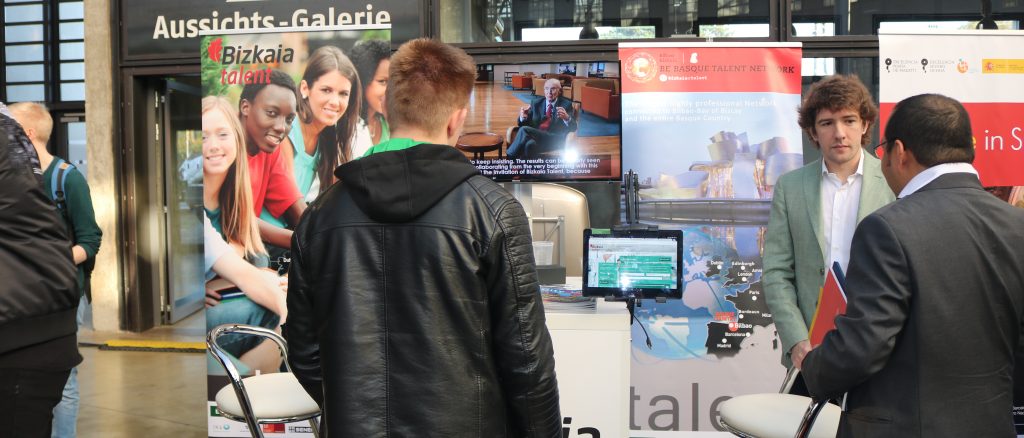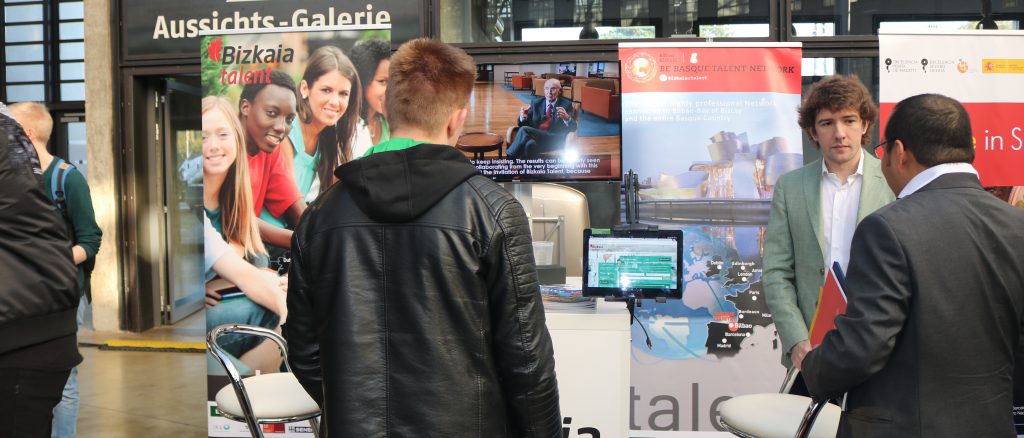 Attracting talent to the Basque Country is one of the top priorities for Bizkaia Talent and throughout the year they travel to numerous places in the world to take the social and economic reality of the region there. The Naturejobs Expo held last 17 November in Düsseldorf was the latest international event attended by this association of Bizkaia involved in talent management.
Naturejobs Career Expo is one of the most important scientific employment fairs. It brings together graduates, doctoral students and postdocs in Physics, Chemistry, Life Sciences, Mathematics and Medicine as well as young undergraduates who are seeking a career change. The main aim of this fair is to promote the European Union as an ideal place to develop a professional career in the field of science, either in industrial research, in research organizations or at the universities themselves. Thus, this event is a meeting place for the best opportunities in the best public, private, national and international organizations.
REPRESENTATION OF BASQUE ORGANIZATIONS
Bizkaia Talent attended this fair in representation of about thirty companies including CIC NANOGUNE, DANOBAT GROUP S. COOP., NEIKER – BASQUE INSTITUTE FOR AGRICULTURAL RESEARCH AND DEVELOPMENT, IETEAM CONSULTORES, TECNALIA RESEARCH & INNOVATION FOUNDATION, MATRICI S. COOP – MONDRAGON GOI ESKOLA POLITEKNIKOA JOSE MARIA ARIZMENDIARRIETA, S. COOP, ULMA MANUTENCIÓN, S. COOP., EDE FOUNDATION, CIDETEC FOUNDATION, ULMA PACKAGING, S. COOP., BC MATERIALS, IK4-IKERLAN, INGROUP CONSULTING, CIC ENERGIGUNE: ALTERNATIVE ENERGY RESEARCH CENTRE, SHERPA, UNIVERSITY OF THE BASQUE COUNTRY, POLYMAT FOUNDATION, BASQUE CENTER FOR MACROMOLECULAR DESIGN AND ENGINEERING, VICOMTECH, ALERION TECHNOLOGIES S.L., HISTOCELL, S.L., DENEB MEDICAL, S.L., CEIT, PLAIN CONCEPTS SL and BBD BIOPHENIX, S.L. in order to present their more than one hundred employment offers.
During the event, at the stand hosted by Bizkaia Talent they dealt with more than one hundred professionals who asked questions and expressed an interest in the situation and details of the Basque Country to develop an academic and professional career.