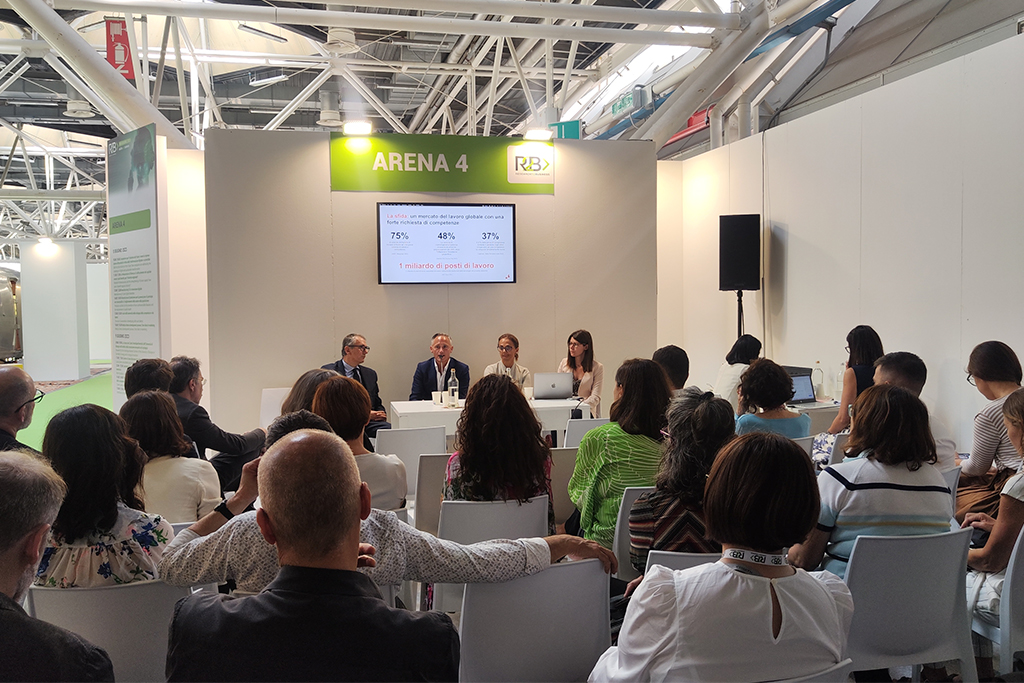 Bizkaia Talent participates in the 'Reasearch To Business' conference in Italy devoted to talent and skills
2023/06/20
The Basque association was invited as an example of success in the use of data as a knowledge tool for talent management.
On the 8th June Bizkaia Talent attended the R2B – Research To Business conference held in Bologna (Italy), and devoted to talent and professional skills. This initiative, which was organized by the Economic Promotion Agency of the Emilia-Romagna Region (ART-ER) and BolognaFiere, in collaboration with Wired, was co-financed with European Funds and has taken place in this year 2023, nominated by the European Commission as European Year of Skills.
The event, which was attended by over 2,000 people, was focused on strategies for attracting and improving young talent which has or could develop the skills and knowledge which are essential for the growth of companies and society in general. R2B offered its visitors 140 workshops, four conferences and a space with over 100 speakers from companies, universities, training institutions, research laboratories and start-ups.
Bizkaia Talent, invited on this occasion as one of the world references in territorial talent management, participated in the round table entitled "Traiettorie di carriera e attrazione dei Talenti: il ruolo chiave delle competenze" (Career paths and talent attraction: the key role of skills). Mr Ivan Jimenez, the Managing Director of the Basque association, described the trajectory of Bizkaia Talent in the handling of digital tools based on data management, and the tools used for career development (Career Development Centre), staff recruitment (Headhunting Support Centre) and labour market analysis (Basque Talent Observatory), with which it helps local companies to search for the best talent and offers professionals a direct channel to access the best work opportunities. Also participating in the group debate was the Director of the delegation of the Italian digital employment portal Monster, a company belonging to the Randstad Group, one of the world leaders in recruitment, employment search and professionals.