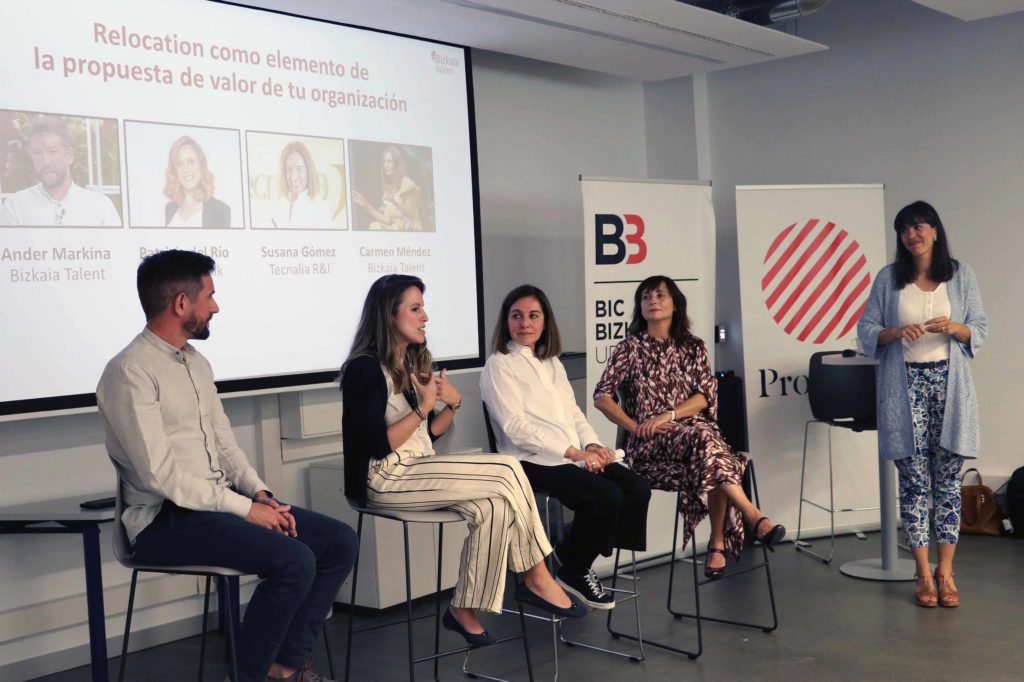 Bizkaia Talent holds a meeting to help Basque companies in the process of recruiting foreign professionals
2023/05/10
16 Basque companies met to receive updated information, share cases and experiences, and resolve doubts.
On 5 May, Bizkaia Talent organised a face-to-face session at the BIC Bizkaia incubator, located in the Bizkaia Technology Park, where it brought together some thirty representatives of Basque organisations with the aim of helping them to resolve the procedures related to recruiting highly-qualified foreign professionals.
Firstly, Carmen Méndez de Castro, head of the Relocation & Be Basque Dual Career Centre service at Bizkaia Talent, explained the latest developments in Law 14/2013, of 27 September, on support for entrepreneurs and their internationalisation, following its latest amendment. The most significant changes discussed in relation to the Law on foreigners were:
Companies will have to use electronic signatures to be able to sign the initial applications for residence and work permits.
The duration of the initial residence permit has been increased from 2 to 3 years.
Higher vocational training graduates shall be considered as highly qualified professionals for the purpose of obtaining a work permit.
The second part of the meeting included the roundtable "Relocation as an element of your organisation's value proposition". Patricia del Río, Director of Clinical Research & Innovation at Mikrobiomik; Susana Gómez-Goicoechea, Head of Talent Attraction and Recruitment at Tecnalia Research & Innovation; Ander Markina, Head of Customer Relationship Service at Bizkaia Talent; and Carmen Méndez de Castro took part in the colloquium moderated by Leire Lagunilla, General Coordinator of Bizkaia Talent.
Some of the most salient issues of the debate focused on the paradigm shift in which we find ourselves today, where companies must intensify their efforts to make themselves known and to attract the profiles that are in demand. It was also made clear how important it is for companies to understand and empathise with the needs and obstacles of professionals who move to the Basque Country from other countries, whether they are Basque or not, and to implement the necessary strategies and actions to support these people on their arrival, not only by helping them with administrative and bureaucratic procedures, but also by supporting their families and helping them to get to know our surroundings and the lifestyle it offers. Bizkaia Talent deals with all these aspects through its relocation service offered to all Basque organisations and to highly qualified professionals with whom they are negotiating their recruitment or who have already been hired.
16 Basque companies
A total of 16 companies from the Basque Country took part in the meeting: Tecnalia Research and Innovation, Zamundi, BCAM – Basque Centre for Applied Mathematics, Mikrobiomik, Global Factor, BC3 Basque Centre for Climate Change, Fanox, IDOM, Lointek, Achucarro – Basque Centre for Neuroscience Research, University of Deusto, Biscayan Federation of Metal Companies, UPV/EHU, Polymat, CIC energiGUNE, Startup Wise Guys.