Bizkaia:talent supports once again the Talentum Startups programme to promote the entrepreneurship and innovation of Basque students together with Telefonica and Mondragon University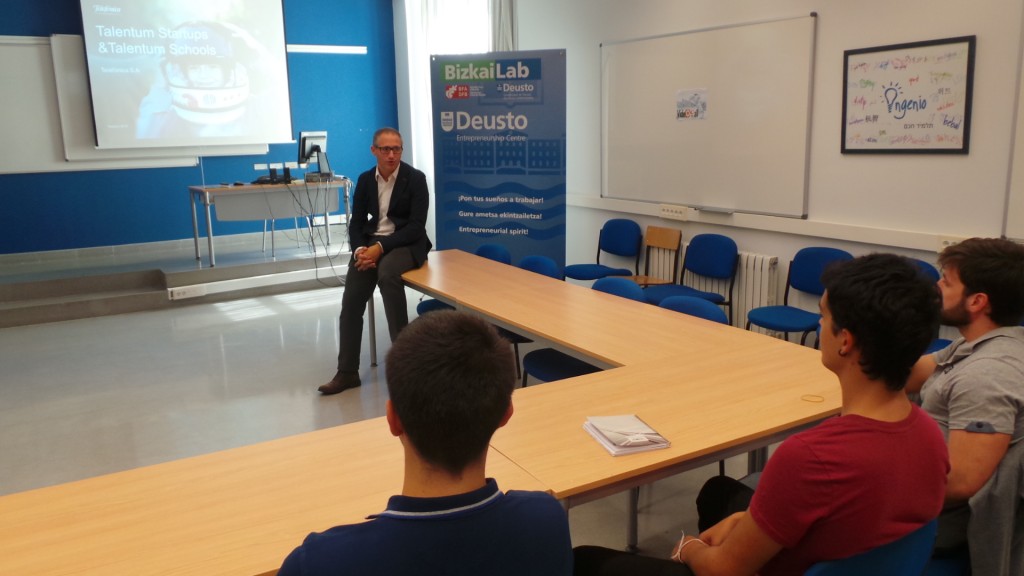 Telefonica expects participation to be high in the Basque Country, one of the most active communities in the programme, in the new edition of Talentum Startups
Bizkaia:talent, together with Telefonica and Mondragon University, supports a new edition of Talentum Startups, the programme to promote the entrepreneurship and innovation of young people from technology degrees which has so far been very successful in the Basque Country. The programme had two Basque winners last year: Mikel Rodriguez, a telecommunications engineering student at the University of the Basque Country, designed an occupational safety application using smart clothing, whereas Oscar Serradilla, a computer engineering student at Mondragon University, developed a road safety system which warns the driver about hazards on the road such as potholes and elevation changes. Both projects have received the necessary support to get all their potential developed, including a high-qualification grant, with an investment of around 6,500 Euros, and funding for tutoring and mentoring teams.
Mikel Rodriguez and Oscar Serradilla together with Jose Maria Alvarez-Pallete, CEO of Telefonica, participated in the Joinnovation conference, which brought together young people and mentors who have lived the experience in various entrepreneurship support programmes:  Talentum Schools, Talentum Startups and Labs, dealing with themes such as Big Data, Digital Education, M2M, IoT, content marketing, wearables or cybersecurity among others.
The Talentum Schools technology workshops, with more than 50,000 sessions held so far in Movistar shops as well as schools and camps and in more than 20 cities in Spain, are contributing to train a new generation of digital creators who are able to turn their ideas into realities using technology. Addressing the concern about the gap in the digital ecosystem, Talentum Schools foster the technological vocation and the digital culture of young people aged 4 to 18 helping with the responsibility of preparing our children and youth to be the professionals of the future.
Talentum Startups, which has been running for three years now, has provided a unique work experience to more than 700 university students in technology degrees. 80% of them have worked in technology projects in start-ups all over the national territory and 20% have developed their own project, with the support of a technology mentor and the necessary software and hardware.
The Joinnovation conference also presented the entrance tests for the new call to apply for places in the Talentum Startups programmes and LABs. They are aimed at young university students in the areas of information technologies and communication.
To participate in the Talentum Startups programmes and Labs, applicants must take an online test which will be carried out at the same time as the JOINNOVATION event.  It is expected that more than 350 candidates will have been identified by the end of 2015.
The information is available at www.talentumstartups.com.