bizkaia:talent collaborates in attracting the Global University Project on Sustainable Technologies to the Basque Country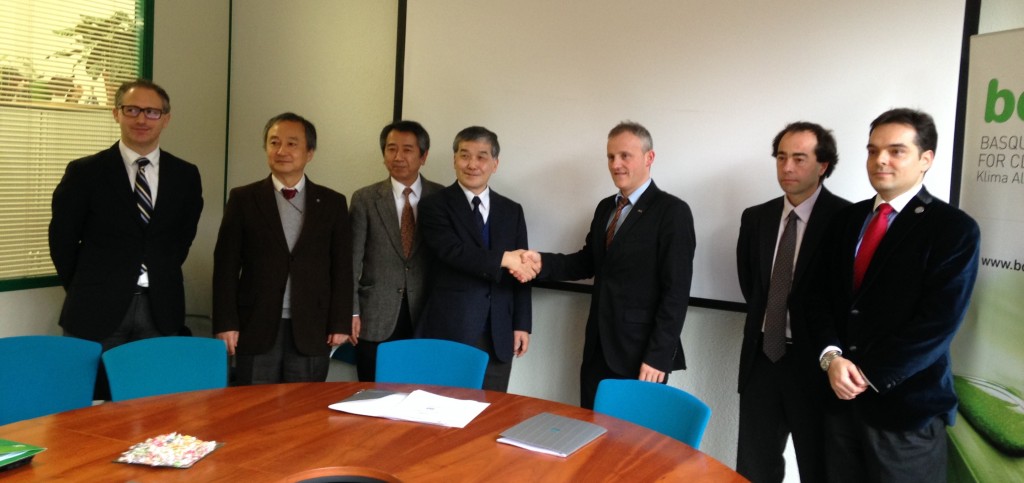 Attracting the Sustainable Technologies Programme to the Basque Country is the result of the cooperation between BC3 (Basque Centre for Climate Change) and the Nagaoka University of Technology in Japan, with the collaboration of bizkaia:talent.
The first students will leave for Japan in the second semester of the year.
The programme will be coordinated for the whole of Europe by BC3.
On 20th and 21st January, a delegation of Japanese researchers led by Professor Azuma visited the Basque Country to officially launch the first part of this ambitious programme, the first of its kind between Japan and the Basque Country. Professor Azuma is the Vice-President of the Nagaoka University of Technology and a beneficiary of the bizkaia:talent financial aid programme for hiring and linking top researchers to Bizkaia. The representatives from the Nagaoka University of Technology visited the premises of Mondragon University and contacted the rest of the Basque Universities to schedule their joining the programme.
Promoted by BC3 (Basque Centre for Climate Change) and the Nagaoka University of Technology in Japan, the agreement will make it possible to create a "Global University" within 10 years. This will facilitate the international mobility of students and researchers and will strengthen the international presence of SMEs within the sphere of sustainable technologies. This exchange model is a strategic initiative of the Government of Japan aimed at generating an international campus of excellence with permanent connections in countries such as Germany, South Africa, Vietnam and Mexico. They estimate that the project will be completely deployed within 10 years and will have 900 participants on average per year. The programme is fully funded by the Japanese government through allocations made for this purpose.
This agreement has been possible thanks to the work carried out by the BC3 team, led by the Ikerbasque professor and Ramon y Cajal researcher Sergio Henrique Faria, user of the bizkaia:talent Location Service, who has been appointed coordinator for the deployment of the programme in the Basque Country and in the whole of Europe. The agreement has also been possible thanks to the collaboration of bizkaia:talent, the association promoted by the Provincial Council of Bizkaia to attract, retain and link highly-qualified people within the scientific, technological and business spheres to Bizkaia-Basque Country.