Aernnova will hire more than 100 engineers to manufacture part of the new Airbus Beluga XL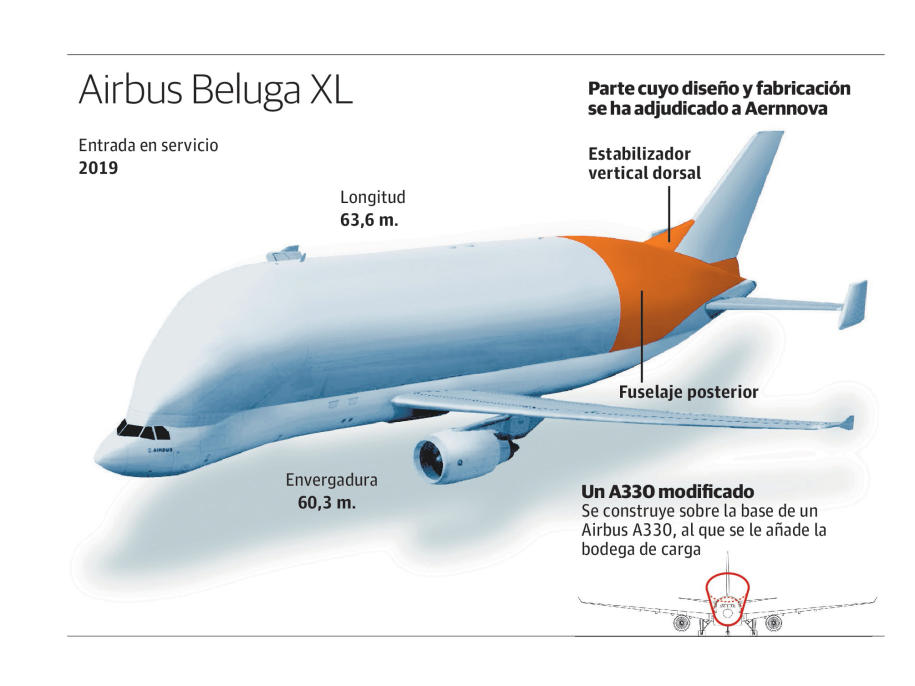 The Basque company has become established as a key supplier for the aeronautics giant and will design and assemble three sections of the rear fuselage for this plane
The main aircraft and aerospace equipment manufacturer in the world has a Basque company among its top suppliers. The Airbus giant has relied once again on the aeronautics company Aernnova to launch the model which will replace its A300ST Beluga –there are five units in operation- to carry aircraft components between factories.
The first Beluga XL will enter in service in mid-2019. It is based on the current Airbus A330; Aernnova will be in charge of the design, industrialization, manufacture and assembly of three sections of the rear fuselage and the dorsal fin.
Developing this work will involve over 350,000 hours of product engineering and therefore the company presided by Iñaki Lopez Gandasegui will hire, during the project, more than one hundred engineers in its centres in the Technology Parks of Miñano, Alava and Zamudio, Bizkaia. According to Airnnova «these teams will have to face the R&D&I (research, development and innovation) challenge which a change of model always presents».
The Basque aeronautics company will also manufacture and assemble the aerostructures, which will represent a work load equivalent to 50 jobs. The assembly will be carried out in the plant of Berantevilla, Alava, and the manufacture in several factories of the group.
In addition to Aernnova, there will be another Spanish company involved in the new Airbus 'whale' aircraft. This company is Aciturri, which will design and build the auxiliary fins and the Horizontal Tail Plane (HTP) box extension. Moreover, the French company Stelia Aerospace will be in charge of the nose fuselage and the main cargo door –at the front – and the German companies Deharde and P3 Voith Aerospace of the typical fuselage of the cargo bay. They will not be the only suppliers for this air transporter.
With the Beluga XL, Airbus expects to increase transport capacity by 30% and there will also be an increase in flight hours. One of the main tasks this plane will be entrusted with is supporting the construction of the A350 XWB -Aernnova has participated in this project-, since it will be able to carry two wings at a time. This will be possible because the fuselage will be six metres longer –at present it is over 56 metres long.
Award in March
This order for the Basque aeronautics company, a world leader in the sector of aerostructures, has come three months after Airbus chose Aernnova as one of its three best suppliers and it was awarded the 'Accredited Member' status.
It was in 2004 when the company led by Lopez Gandasegui started participating in transformation projects for special or oversized cargo, which is characterized by high technical requirements and response capacity when dealing with new challenges.
Now, with their participation in the new Beluga XL, Aernnova reinforces its capabilities in the development of this type of aircraft and consolidates its position in a market niche with a high demand for engineering skills.