The countdown to the 10th Be Basque Talent Conference to be held in Munich has already begun

It will take place on 11 November and will be attended by around 25 Basque organizations and numerous professionals
Basque talent keeps expanding all over the world. Therefore, the work carried out by Bizkaia Talent is essential to build and promote contact and collaboration networks which can help develop major projects and initiatives in the Basque Country.
With this aim in mind and encouraged by the success of previous editions, the 10th Be Basque Talent Conference will be held next 11 November. This international event will bring together around 25 Basque organizations and numerous highly-qualified professionals who are developing an international career mainly in the area of Munich.
This initiative is framed within the Professional Networking Service provided by Bizkaia Talent to the organizations of the Basque Country so as to give high value-added support to the link with highly-qualified Basque researchers and professionals who carry out their activity in third countries. The aim is that the emigrated professionals may learn firsthand about the current and future situation of strategic sectors, as well as about their development and career opportunities should they decide to return and/or join projects developed in our country.
The managing director of Bizkaia Talent, Ivan Jimenez, explained that "the 10th Be Basque Talent Conference will give the participating professionals the opportunity to learn, among other issues of interest, about the current and future socioeconomic, scientific and technological situation of our territory".
Moreover, issues related to talent mobility will be discussed during the conference and attendees will have the opportunity to participate in thematic workshops and have meetings and connect, through various activities, with the various Basque organizations which will attend the event, including a debate and a Networking lunch which will be organized in a personalized way to make the interaction between professionals and organizations easier according to their potential collaborations and interests.
"Up to now more than 20 Basque organizations have confirmed their attendance to the Be Basque Talent Conference, such as Maier, S. Coop., Matrici, Velatia, EHU/UPV, Ibarmia, Etxetar Group, Nem Solutions, Loramendi, S. Coop., Ampo, S. Coop., Grupo Ulma, IK4 Research Alliance, Gestamp, CIE Automotive, CAF, Gamesa – Siemens, Eika, Batz, S. Coop., ieTeam, Cikautxo, S. Coop., Fagor Arrasate, Danobat Group and Mondragon Corporation, among others" the Managing Director  said.
PREVIOUS EXPERIENCES
Around 400 professionals and 47 companies have already participated in the Be Basque Talent Conferences organized by Bizkaia Talent in strategic places such as London, Munich (year 2008), Hamburg, Barcelona, Stuttgart, Hannover, Toulouse, Amsterdam or Dublin. Thus, "the professional and business collaborations established as a result of these conferences, as well as the high value of the NETWORK created, have contributed to the high level of satisfaction expressed by all the participants with regard to the meetings" Ivan Jimenez concluded.
Those interested may register here.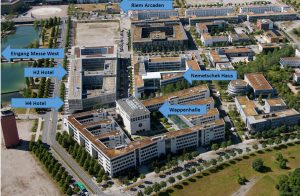 Venue: Nemetschek Business & Conference Center
Registration deadline: 30/09/2017
Limited capacity