FABulous Acceleration Programme launches the second Open Call in search of innovative Internet applications and services for 3D Printing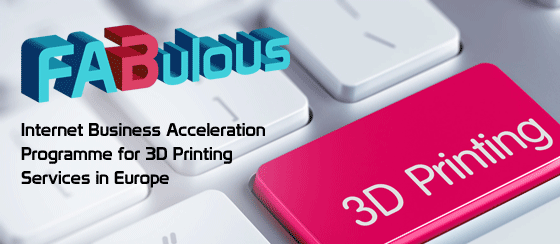 The second Call for project proposals is now opened until June 18th 2015. Each of the selected SMEs and Start-ups will be funded up to 78.000 Euro.
FABulous, the Future Internet Business Acceleration Programme for 3D Printing Services, has launched its second Open Call, in which SMEs and entrepreneurs may submit innovative ideas for the development of new web business, as well as the implementation of a new business line in their company.
The second Open Call, which will be ongoing up until the 18th of June, is divided in two phases. The first one, spanning 4 months, will fund 100 startups and SMEs that will then start new internet services. In the second phase, from January to August 2016, FABulous will select the projects who will receive 60.000€ of funding for the evolution into a commercial application.
SMEs and entrepreneurs who want to start a web business in 3D Printing, and enjoy the benefits of FABulous Acceleration Programme, will find all the information to send their proposals in the website www.fabulous-fi.eu. The submittal of proposal will be done through EMS Platform, developed by the Spanish Consultancy CARSA, the Acceleration Programme Manager.
FABulous is one of the 16 accelerators within the FIWARE Accelerate of the European Commission, which offers a unique opportunity to European SMEs and entrepreneurs in the development of innovative applications and services of the Future Internet. With a budget of 5.4 million Euros, FABulous will provide repayable funding, training and technical support. A total of 150 SMEs and entrepreneurs will enjoy networking and consultancy services that will help them in the development of their model and business plan for innovative services in the 3D Printing domain.
For more information: http://fabulous-fi.eu/ and https://fabulous.ems-carsa.com/call/detail/2
View FABulous_Presentation_2015