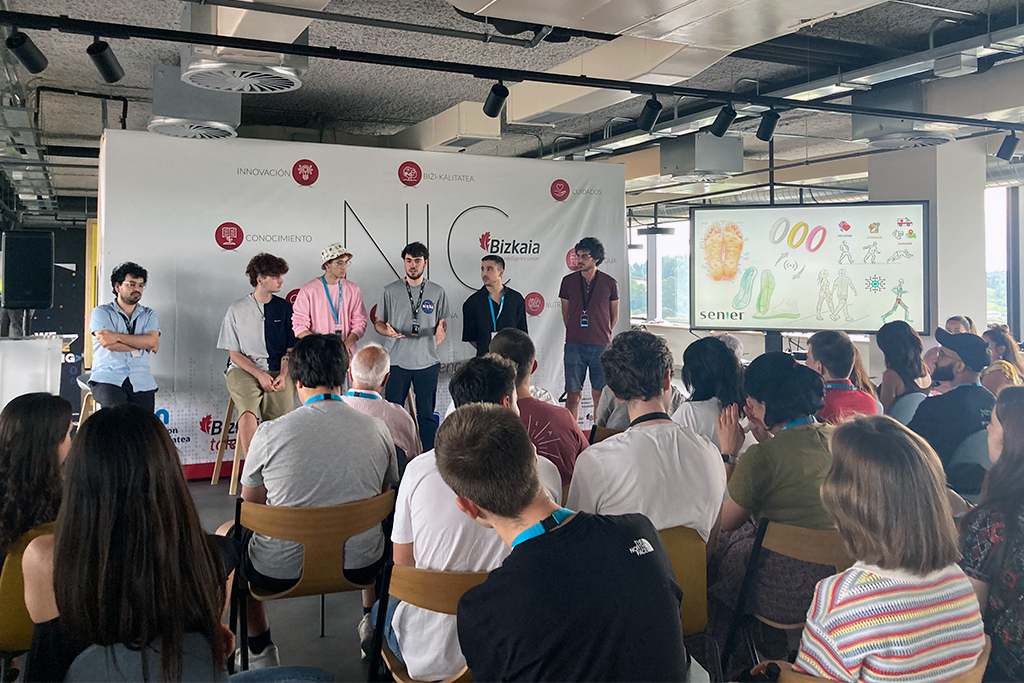 Over fifty people search for innovative solutions in the Torre Urduliz to challenges regarding food and mobility issues for senior citizens
2023/06/12
Kaiku and Sener, reference companies in Bizkaia, posed their own challenges
Following the success of the first edition of the Hackathon on Entrepreneurship and the Silver Economy, Nagusi Intelligence Center, Mondragon University, 42 Urduliz and Bizkaia Talent have joined forces with the collaboration of the Hartu-Emanak Association to provide a new edition of the event which aims to find innovative solutions to the challenges which have been identified in the Silver Economy sector.
The Torre Urduliz hosted the event on the 9th and 10th June. Over the course of a full day, students, professionals, entrepreneurs and representatives of the "silver" collective put forward the best ideas to provide innovative solutions to the challenges posed by two reference companies from Bizkaia with a single objective: to improve the quality of life of elderly people in the areas of food and wellbeing, mobility and its inclusive technology.
The companies Kaiku and Sener posed their own challenges to over fifty event participants who split up into multi-disciplinary groups made up of people with diverse educational training to search for solutions in a collaborative manner.
All the participants were given information pills to provide them with the creative process for the solving of challenges. On the one hand, they were given training to stimulate creativity and the necessary steps to become an efficient working team. On the other hand, the format, the set-up time for the projects and the criteria for carrying out a pitch format presentation were all explained to them.
The quality of the teams' proposals and presentations was very high. As a result, it was very difficult for the jury to decide on the winning solution. In the end, the Lokaiku team was the winner in food and wellbeing, which was the challenge posed by Kaiku, while the Seniers team won the mobility and technology challenge proposed by Sener. Both of the teams were awarded with a prize of 2000 euros.
Silver Economy programme
Bizkaia Provincial Council's Bizkaia Silver Economy 2023-2024 Programme, managed by Bizkaia Talent, was also presented at the event, and this programme partially finances specialist master's degrees. The aim of the programme is to promote training, knowledge and skills development at the highest level in the silver economy sector, in order for Bizkaia to have trained professionals capable of providing a response to the requirements posed by the challenge of an ageing population and the growing demand for associated products and services.