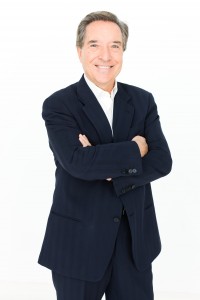 Iñaki Gabilondo was born in Donostia on 19 October 1942 and is one of the most popular voices and faces of journalism in our country.
He is the second child in a family of nine. He studied at Hermanos del Sagrado Corazon in San Sebastian. He graduated in Journalism from the University of Navarre and started his career in the radio in 1963, at the age of 21, in Radio Popular (COPE) in San Sebastian. He became the director of this radio station at the age of 27. In 1969 he became the director of Radio San Sebastian in Cadena SER. Two years later he became the director of Cadena SER in Seville, which led him to the position of news director.
Seven years later, in 1978, he joined the news services of Cadena SER in Madrid and started directing Hora 25 and in 1980 he was appointed director of Cadena SER News Services.
Shortly afterwards he was appointed news director of TVE, the Spanish public TV channel network, and after that he was the director general of Radio Television 16.
He left Radio 16 in 1983 to return to Cadena SER, where he was director and then presenter of the radio programmes Aqui la SER, Matinal SER, Pido la Palabra and Onda Media.
On 22 September 1986, he started hosting what he considers the most important programme in his life: Hoy por hoy, which became the radio programme with the largest audience in the whole history of the radio. But the radio did not prevent him from appearing on other TV media in the meantime.
On 30 August 2005, Cadena SER announced that Iñaki Gabilondo would stop directing Hoy por hoy to become the presenter of the news programme Noticias Cuatro in the new generalist channel Cuatro. From 8 February to 23 December 2010, after leaving Cuatro, Iñaki Gabilondo hosted the late-night news magazine Hoy in the continuous information channel CNN+.
From 2011 to the present, he has participated in the newspaper El País and in Cadena SER with the video blog La voz de Iñaki, where the journalist gives his opinion about the latest news.
In 2012 he received the Tomas y Valiente Award for his commitment to democracy and to fundamental freedoms. In that same year he took charge of the documentary series Transicion y democracia en Euskadi for ETB 2.
At present, Gabilondo also presents an interviews programme in the newly launched TV channel Movistar+. He chats with prestigious figures who live their professions and their lives in a passionate way, stories on the edge which teach life lessons.