Harrera Zabalduz Project: leisure activities for social integration in Bizkaia
Our Harrera Zabalduz Project (which means 'Expanding welcome') was established to assist highly qualified people from the Spanish state or beyond related to Bizkaia Talent services in their social integration in the Historical Territory of Bizkaia.
The primary goal of Harrera Zabalduz is to create a friendly atmosphere based on personal and professional experience to improve and add value to relocation services, by way of meetings and leisure activities organised by Bizkaia Talent itself or jointly with other organisations. With this additional service, professionals and their families have the chance to meet other people coming to Bizkaia from different countries and better integrate in their new destination. People who left the Basque Country and are coming back to resettle in their homeland are also the targets of this programme.
Example:
ACTIVITY: 'Make a putxera yourself'
LOCATION: Balmaseda
DATE: Saturday, 17 November 2012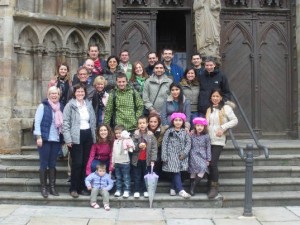 On Saturday, 17 November, a group of 23 researchers or professors and their families, coming from Chile, Granada, Iran, Ireland, Rumania, Scotland, Switzerland, USA, joined by a few locals, prepared a putxera (rail stew) in Balmaseda, a Medieval town that was the first to be granted a charter in Bizkaia.
Cooking a putxera in a friendly and fun atmosphere, participants learned about the origins of this rail stew, which can be traced back to the nineteenth century – an invention of railroad workers from the North, who used the steam of the train to warm their meals. This long-standing tradition has come down to the present day and was shared with the international residents by a local from Balmaseda.
While the meal was being cooked over the low heat from charcoal, the group visited this Medieval town and the Encartada Museum (former beret manufacturing facility), and got deep into the Basque social and cultural tradition called poteo or txikiteo, which consists in drinking wine at a bar with friends.
Everybody agreed that this type of activities were necessary and useful for convenient adaptation to their newly adopted social and cultural environment. Their average level of satisfaction was 4.8 out of 5. All participants would recommend the activity, and they would participate again in the future.
All the professionals who took part in this activity are working in Bizkaia-based organisations such as BC3-Basque Centre for Climate Change, BCAM-Basque Centre for Applied Mathematics, BioCruces-Health Research Institute, DigiPen Bilbao-Institute of Technology, ESS-Bilbao, University of Deusto or University of the Basque.