The Basque Country is at the head of the countries of the European Union with the best gender equality index

The Gender Equality Index in the Basque Country stood at 58.5 points in 2012, slightly higher than Belgium, which took the fifth position in the Gender Equality Index ranking of EU countries, according to the data prepared by the Basque Agency of Statistics Eustat.
Thus, the Basque Country only stands below the Scandinavian countries Sweden and Finland and some northern countries such as Denmark or the Netherlands, but above the other 24 members of the European Union and well above the European average. With 96.2 points, the Health domain comes the closest to total equality among people of different gender.
The Gender Equality Index is an indicator which summarizes in a dimensionless scale, where 1 means total inequality and 100 total equality, the inequalities which  still exist between men and women in a number of relevant aspects which affect their wellbeing and personal development.
It has been prepared using the methodology of the European Institute for Gender Equality, which enables the advances in gender equality in the Basque Country to be compared with the reference offered by the European Union and its 28 member countries.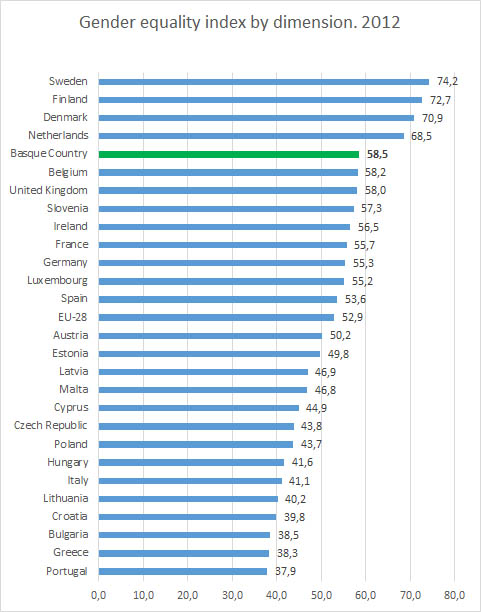 SOURCE: Eustat 2012
Between 2010 and 2012 the gender equality indicators improved in the areas of health and time. In the Basque Country, the highest values in gender equality were reached in the domains of health, money and work.
However, the position with regard to the EU countries in 2012 was better in the domains of health and power, where it would take the first and fourth position respectively. As for the EU-28 average, the Basque Country obtained a more favourable score in all the domains except work, where the value was 1.5 points lower.