Basque Country is waiting for you
Get to know us
Higher education in the Basque Country is oriented to the region's own scientific, technological and industrial reality, thus favouring competitiveness and economic growth.
Learning is a key factor to the economy if it is to be competitive and expansive. Societies that invest in learning can grow more and go through economic crises in better shape, particularly if they bet on quality education. This is the case of the Basque Country, which has an excellent offer of specialised courses oriented to innovation and designed to meet the demands of the productive fabric.
81.1% of the Basque population have finished secondary school. Moreover, 26% of the people aged 25 to 64 have gone to university, vis-à-vis 23.1% in EU-25; 25.9% of them hold degrees in the fields of science and technology (13.1% for EU-25). 13.1% are researchers.
With regard to higher education (university studies and occupational training), 45% of the population aged 25 to 64 have it. This places the Basque Country above all the countries in EU-27, including Finland (39.3%), Ireland (37.7%) and Norway (37.6%), the three countries standing closest (source: Eurostat). The percentage is much higher than the European average at 26.8%.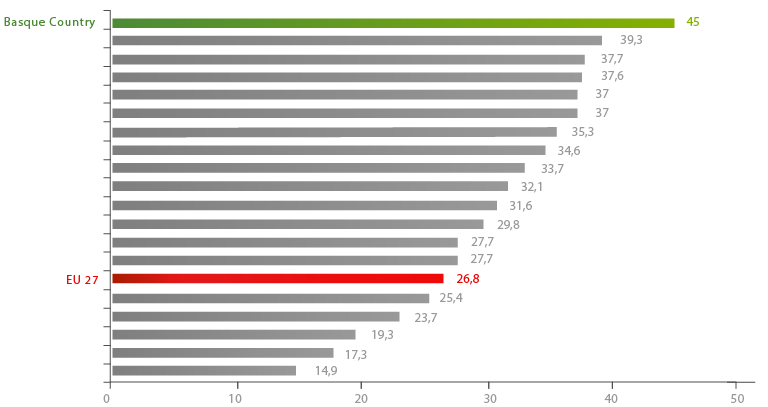 The Basque Country also leads the ranking of countries in the European Union with people that have made University Degrees on Science and Technology, with 43.1% of graduated compared to 22.6% of European average.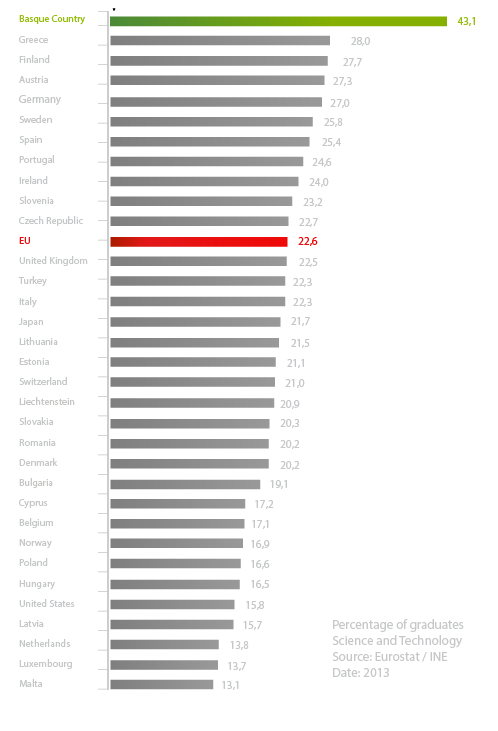 Likewise, the Basque Country is among the European leaders in terms of expenditure per student, which is key to human capital development. In 2009, the expenditure per student in our Historical Territory in educational centres for all levels from primary to higher education was 12,048 PPP (purchasing power parity), way above the OECD and EU averages (9,252 and 9,122, respectively).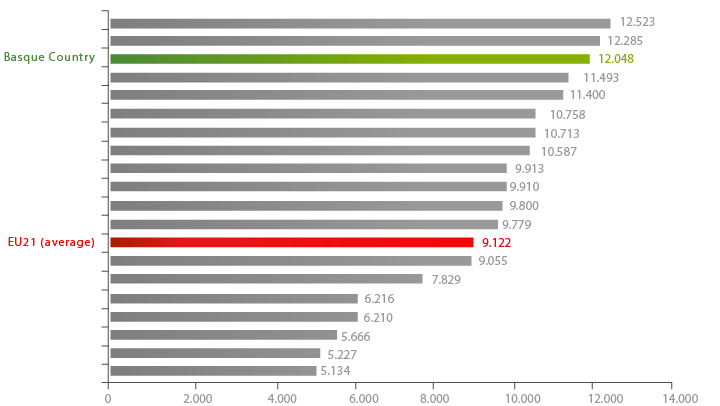 Talentia
In the Basque Country, university students are aided through programmes such as Talentia. Promoted by Bizkaia Talent jointly with the University of Deusto, the University of the Basque Country/Euskal Herriko Unibertsitatea and the University of Mondragon, this initiative is aimed at guiding skilled students at the three Basque universities toward developing a professional career and supporting the relationships between students and the scientific, technological and industrial reality around them.
The Historical Territory of Bizkaia is home to two internationally renowned universities, namely, the University of the Basque Country/Euskal Herriko Unibertsitatea and the University of Deusto; in addition, there is a learning centre affiliated with the National Distance Education University (UNED). Another pillar of higher learning in the Basque Country is the University of Mondragon/Mondragon Unibertsitatea.
Research and training: university system
The University of the Basque Country/Euskal Herriko Unibertsitatea (UPV/EHU) is a public university ranked within the leading universities in the Spanish state. It stands out as a leading research institution, its undergraduate and graduate programmes covering all the branches of knowledge, particularly the experimental and health sciences.
The campus based in Bizkaia comprises ten faculties and university schools, with 23,000 enrolled students. Its four technical departments – Higher Technical School of Engineering of Bilbao, Higher Technical School of Nautical Science and Naval Machinery, University School of Technical Mining and Public Work Engineering, and University School of Technical Industrial Engineering of Bilbao – offer degrees in Environmental Engineering, Industrial Organisation Engineering, Industrial Technology Engineering, Telecommunications Engineering, Automatic and Industrial Electronics Engineering, and Information Management and Information Systems Engineering, among others fields.
The renowned Faculty of Medicine and Dentistry, in Leioa, offers other courses like Physiotherapy. The University School of Nursery, also in Leioa, completes the offer of the Health Sciences department.
Inaugurated 125 years ago, the University of Deusto is a highly prestigious learning institution. It stands out for its social science, economics and law schools. Associated to the Society of Jesus (a religious order founded by Basque Ignatius of Loyola), this university has been home to prominent philosophers, lawyers, politicians and entrepreneurs. This private university has two campuses, located in Bilbao and Donostia-San Sebastián, with around 10,000 enrolled students. The campus in Bilbao is home to six faculties and schools (Law, Theology, Engineering, Business and Economics, Psychology and Education, Social Sciences and Humanities), with 7,000 enrolled students.
The learning system and research studies at the University of Deusto are internationally renowned, especially in two areas: law and business administration. Law students get sound training and a deep knowledge of legal issues, which they can eventually expand in specialist postgraduate courses (in business, taxes, international affairs and other fields of expertise).
Since 1886, the rooms in the School of Law at the University of Deusto have welcomed many a renowned lawyer and politician. The teaching approach focuses on the relationships between legal and economic or business issues, which results in graduates with a solid background.
As to Deusto Business School, it is meant to become a global reference in business education and the training of future leaders, encouraging innovation, entrepreneurship and creative thinking. Established in Bilbao as 'La Comercial' in 1916, it later merged with ESTE in Donostia-San Sebastián. Since then, it has been the learning centre chosen by great professionals now working at big companies and financial institutions.
Among the higher learning institutions based in Bizkaia there is also theCentre affiliated with the National Distance Education University (UNED) in Portugalete. In addition to the entire academic offer from UNED, students can also learn languages at the Distance Language Learning Centre (CUID). Finally, there is the School for Legal Practice for lawyers and advanced students who want to expand their knowledge of legal issues.
University and business
In 1997, the Basque Mondragon Corporation (MCC), the world's largest worker cooperative, opened Mondragon Unibertsitatea (MU), a private university that is oriented to the Basque business fabric, especially the cooperatives in the corporation. The University has schools of Engineering, Business, and Humanities and Education, offering an Audio Visual Communication programme.
Mondragon Unibertsitatea is closely linked to the Centre for the Development of New Sectors for the Future and the Innovation Centre in Garaia, which promotes R&D+i, both of them supported by Mondragon Corporation. Likewise, this business group seeks to strengthen the links between training and work with vocational training centres like Politeknika Ikastegia Txorierri or Lea Artibai Ikastetxea, located in Derio and Markina, Bizkaia.
During the 2011-2012 academic year, Mondragon Unibertsitatea opened theBasque Culinary Centre in Donostia-San Sebastián, the world's first ever college with an official academic degree in Gastronomic and Culinary Sciences. Also, it has a research facility devoted to gastronomy. The aim of this innovative centre is to foster research and knowledge transfer between culinary professionals and directly or indirectly related businesses.
The University of Deusto, the University of the Basque Country/Euskal Herriko Unibertsitatea and Mondragon Corporation are members of Bizkaia Talent, thus confirming their bet for talent in the Basque Country.