The Basque Country got "honours degree" in transparency of its institutions, occupying the first position in the Spain
The Basque Country is the most transparent autonomous community, according to a report on International Transparency (TI) in Spain, which highlights that all the autonomous regions have improved in meeting the demands of access to information and they now comply to a larger extent with the right of citizens to know.
This is stated in the Transparency Index of the Autonomous Communities (INCAU) 2016, which stands globally at an average of 94 out of 100, when in the previous report, in 2014, it stood at 88.6.
Thus, the Basque Country has "honours degree" with 100, while Navarra, the least transparent of all, remains at 81.9.
INCAU, which reaches its fourth edition, provides data on  Global transparency and six areas of government: autonomous community; citizens and society; economic and financial; procurement of services, works and supplies; transparency in planning and the Transparency Law.
After the Basque Country, in order of transparency, are the Balearic Islands, Catalonia and Madrid, the three with a score of 98.1, followed by La Rioja (97.5), Murcia (96.9), Andalusia (96.3) and the Canary Islands and Cantabria (95).
For the preparation of this study the autonomous communities have been grouped into four categories, going from those publishing information with a very high quality level, easily and periodically accessible (Catalonia, Murcia and the Basque Country), to those who have an "improvable" level, such as Asturias, Baleares, Cantabria, Castilla-La Mancha, Extremadura and Navarra.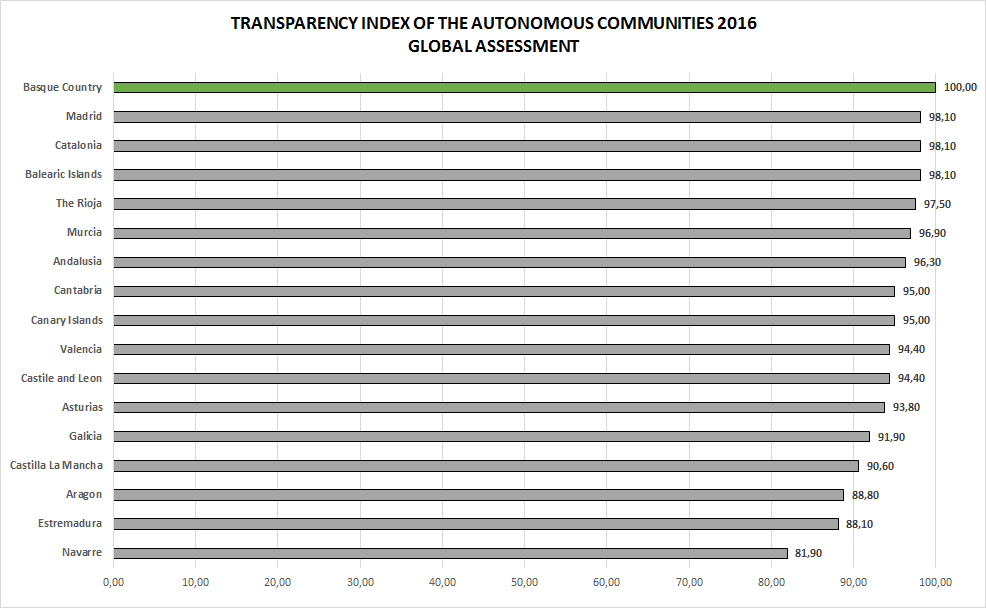 SOURCE: Transparency International