Bizkaia Talent plants over 100 indigenous trees to compensate for the carbon footprint which it has generated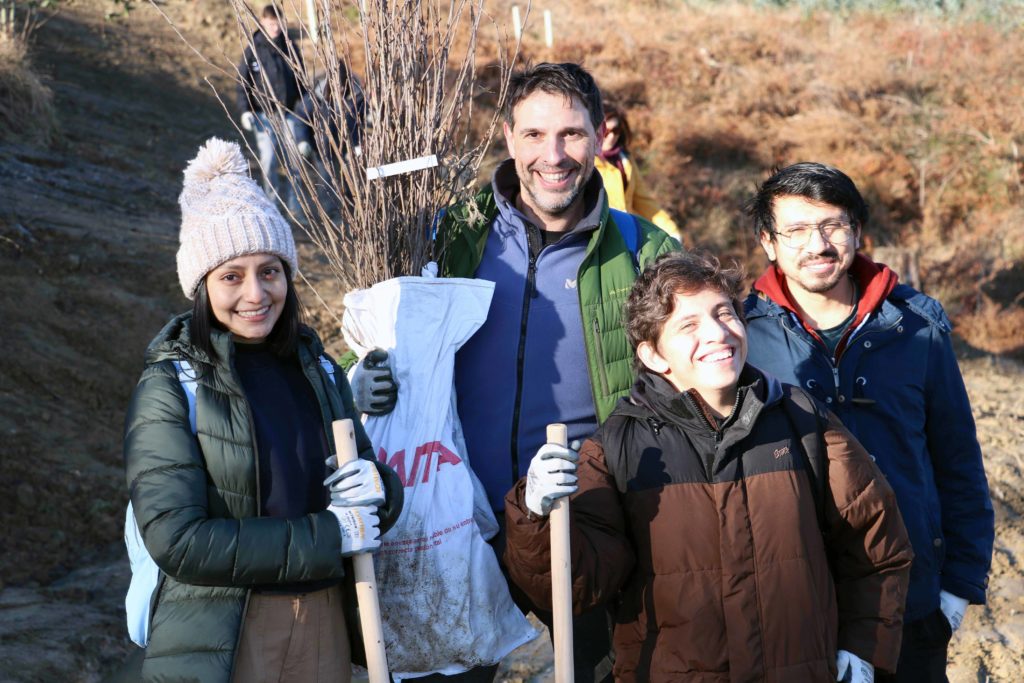 The Basque association has planted different species in Urdaibai Biosphere Reserve, with the assistance of international professionals from the Relocation & Be Basque Dual Career Centre service, together with professionals from the Be Basque Ambassadors programme.
On the 11th February Bizkaia Talent organised an activity for the planting of around 110 indigenous trees (birch, oak, chestnut, hawthorn etc.) in Morga, in the Urdaibai Biosphere Reserve which was declared a World Heritage Site in 1984. The event was carried out in conjunction with Lurgaia Foundation with which Bizkaia Talent has signed a collaboration agreement to foster the conservation of biodiversity and the management of the natural patrimony of the region.
The main aim of this initiative is to compensate for the carbon footprint generated by the association, but also to spend a pleasant time with friends, and to enjoy the beauty offered by the Urdaibai natural space.
Before starting with the tree-planting, the foundation's volunteer workers Javier Franco and Cristina Jerónimo spoke about the origins and aim of the project, and the importance of the conservation of biodiversity and environmental management. Following this, it was all hands to work, and once the job was done the participants enjoyed a well-deserved lunch featuring local, natural and ecological products.
The professionals and post-graduates who took part in the activity come from countries such as Argentina, Colombia, Chile, Ecuador, Honduras and The Netherlands, and they are currently carrying out their professional activities in organizations such as UPV/EHU (Basque Country University), Deusto University and Mosaikus.
Lurgaia Foundation
A private, non-profit organization, the aim of Lurgaia Foundation is to favour biodiversity conservation and environmental management: species, habitats, associated ecological processes and the countryside. The foundation currently manages in the Reserve some 200 hectares of land which is in the process of being prepared for the creation of future woodland.