Alstom starts the construction of its new Hydro facility in Bilbao, Basque Country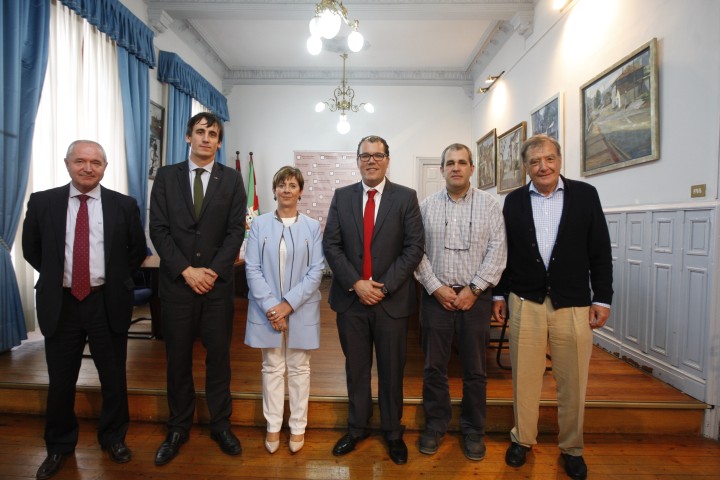 Alstom started the construction on its new industrial centre in Bilbao, dedicated to hydroelectricity activity. This new site will replace the current facility located in Valle de Trápaga (Bizkaia). The search for a new location followed a commitment made by Alstom in July 2013 when the company sold its mining activities to ABB. The inauguration of the new factory is expected for the end of 2015.
Alstom´s industrial centre in Bilbao is one of the nine sites operated by the company in the hydroelectric energy business. It is specialised in the small and medium power generators (up to 50 MW) and also manufactures diesel generators for hydroelectric projects worldwide. 80% of its production is currently exported, mainly to Latin America, Asia and Europe. Until 2013, the Bilbao centre supplied generators that equipped hydroelectric facilities in 22 countries, especially in Turkey (585 MVA), Italy (536 MVA), Norway (296 MVA), Albania (143 MVA) and Switzerland (102 MVA), totalling 2400 MVA.
Alstom's new industrial centre in Bilbao will be located in the city of Ortuella. The plant, placed on a 10,000 m2plot, will have a floor area of 6300 m2, among which 5000 m2 dedicated to industrial activities and 1300 m2used for offices and engineering. The total investment for the construction of this plant amounts 12 million euros.
A large part of the Bilbao site's activity is conducted in cooperation with the Alstom centre of Cornellá (Barcelona), where hydraulic turbines are designed.
The Alstom Hydro engineering centre in Bilbao also participates to the development of new ocean and renewable energies within Alstom's R&D programmes worldwide.
Alstom, a worldwide leader in Hydroelectric Power
Alstom Hydro in Bilbao is part of the largest global industrial and technology group related to hydroelectric energy. With over 100 years of experience, Alstom is the world's leading manufacturer of hydroelectric energy equipment. Globally, one in every four hydroelectric plants is equipped with Alstom technology.
In Spain, the first project dates back to 1906 with the construction of the Zumarresta damn, owned by Iberdrola. Since then, Alstom has installed in Spain over 300 hydroelectric turbines and 2.000 generators, with a total installed capacity of 7 gigawatts, 40% of the total hydroelectric capacity in the country.
About Alstom
Alstom is a global leader in the world of power generation, power transmission and rail infrastructure and sets the benchmark for innovative and environmentally friendly technologies. Alstom builds the fastest train and the automated metros with greatest capacity in the world, supplies integrated turnkey plants and associated services to a wide range of power sources, including hydro, nuclear, gas, coal and wind, and offers several solutions for power transmission, focused on smart grids. The Group employs 93,000 people in over 100 countries. It registered sales of €20 billion and closed approximately €21.5 billion in orders in 2013/14.