Bizkaia Talent will collaborate with Zientzia Azoka and the promotion of euskera and science thanks to an agreement with the Elhuyar Foundation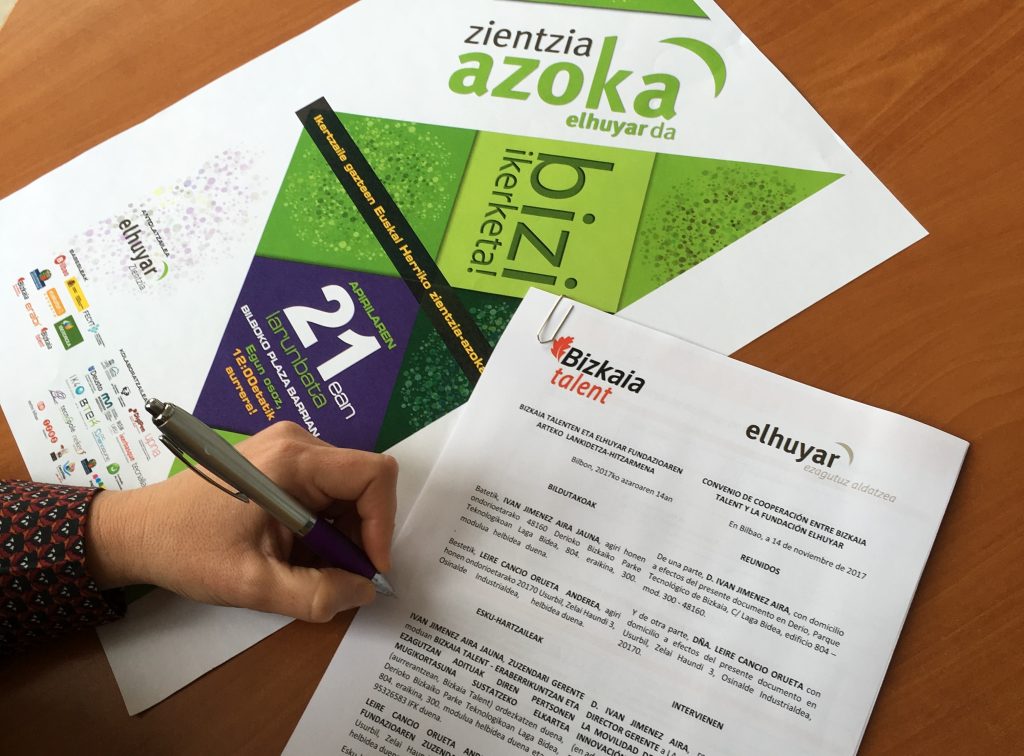 Thanks to this agreement assistance will be provided in the setting up of Zientzia Azoka which will take place on the forthcoming 21st April 2018 in Bilbao.
Four places will be offered for participating in the Competences for Professionalism Program in Bizkaia.
One of the fields in which Bizkaia Talent is currently working as an association is in the creation of a solid collaborative network with other organizations in the same field helping one another to develop and achieve their goals. In this context, a collaboration agreement has been signed between the Elhuyar Foundation, represented by its General Manager Leire Cancio Orueta, and the General Manager of Bizkaia Talent, Ivan Jimenez Aira.
The Elhuyar manager explained that "the aim of the foundation is to promote the spreading of science and technology and the development of the euskera language through different products and services". For his part, Mr. Jimenez stressed that "both Bizkaia Talent and the Elhuyar Foundation have common goals, and in order to achieve these, collaboration and coordination between the two organizations will enable us to take advantage of the potential of both organizations to the maximum in an efficient way by joining forces".
Zientzia Azoka
Thanks to the signing of this agreement Bizkaia Talent will collaborate in the acts and events prior to the Zientzia Azoka and will be present at the latter event in Bilbao on the forthcoming 21st April 2018.
Ms. Cancio stated that "the aim of Zientzia Azoka, promoted by the Elhuyar Foundation, is to strengthen a vocation for science among the young, to foster a scientific culture throughout society and to create an instrument to spread science as a strategic project". She went on to state that "in order for the initiative to have sufficient reach, I consider it to be vitally important to unite all the existing science and technology agents in the Basque Country". Along these lines, it is important to emphasise that Bizkaia Talent forms part of this wide-ranging network, which includes collaborating organizations as diverse as universities, research centres and private companies.
By means of this agreement Bizkaia Talent makes a commitment to organize the participation by a group of youngsters who are taking part in the fair in the activities organized by Mouvement International pour le Loisir Scientifique et Technique (MILSET), a non-governmental, non-profit association devoted to the development of a scientific culture for young people by means of organizing science and technology programs, including science fairs, science camps, congresses and other top quality activities.
Furthermore, the association which specializes in talent management will offer the young participants of the Zientzia Azoka four places for participating in its Competences for Professionalism Program.