The Provincial Council of Bizkaia presents its Employment Plan 2015 which expects to help create 2,225 jobs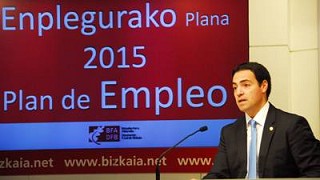 The Employment Plan for 2015 of the Provincial Council of Bizkaia prioritizes the promotion of quality employment for young people, employment for the long-term unemployed and self-employment.
This plan has a budget of 19,270,000 Euros, which will be distributed between the promotion of employment (13.7 million Euros) and the promotion of talent (5.5 million Euros). The targets of the Plan for 2015 establish at 2,225 the number of jobs created and at 1,300 the number of people who will participate in the programmes to improve employability and promote talent.
The promotion of employment includes the direct aids which the Provincial Council of Bizkaia establishes for hiring young people and for hiring young people up to the age of 30 for an indefinite period of time. Both allocations have increased this year as compared to the previous year: altogether they amount to 3.2 million Euros, which means a 21% increase with regard to the allocation in 2014. Thus, this year 1,700,000 Euros will be allocated to the promotion of work experience contracts so as to give young people a first employment opportunity and 1.5 million Euros to the promotion of indefinite employment for young people up to the age of 30.
There has also been an 11.1% increase in the amount allocated to the LanBerri programme, which is specifically aimed at the long-term unemployed and positively discriminates those who are older than 45.
As for the third of the priority axes of this plan, the promotion of self-employment, it will be allocated 6,000,000 Euros.
Download all the modes of the REGIONAL EMPLOYMENT PLAN 2015.
For further information visit the website of the Provincial Council of Bizkaia by clicking here