Basque Country is waiting for you
Getting ready for the future
Cities change; they transform themselves, evolve. Bilbao is a fine example of this, the epitome of urban evolution. Born from ashes in every sense, the capital of Bizkaia is no longer a city in grey hues where the pace of life is marked by industrial activity, since it has become acosmopolitan city where design is the order of the day.
In the nineteenth and twentieth centuries the growth of Bilbao was associated with industry (the iron and steel industry in particular) and shipbuilding. The Port of Bilbao was one of the largest in Europe, as it connected the main European cities and sent off ships carrying crude oil or refined oil products, and raw materials like iron ore or coal.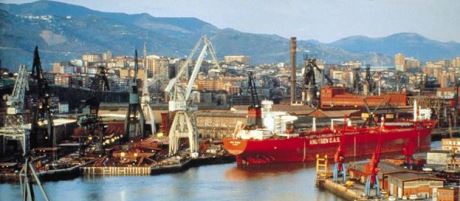 In 1973, industry was damaged as a result of the economic crisis, but a huge rehabilitation plan was designed to revamp the local (and regional) economy and revitalise Bilbao as a city of services.
Bilbao's transformation
As a result of its transformation, Bilbao began to look attractive to both local residents and urbanites at large. The process began in 1992 with the establishment of Bilbao Ría 2000 (Public Company Responsible for the Urban Regeneration of Metropolitan Bilbao) an agency to rehabilitate degraded and industrial areas by developing environmental, transportation and urban development projects. Metro Bilbao was also a determining factor in the metamorphosis of Metropolitan Bilbao.
The strategic plan for rehabilitation and the urban development projects carried out have transformed Bilbao into a global reference in city transformation. They focused on successful regeneration and revamping of districts like Olabeaga or Zorrozaurre (in the hands of renowned architect Zaha Hadid), among others.
After the transformation, Bilbao rose to become an international hubof trade and business travel, playing host to important events (conferences, trade shows, etc.) at the Bilbao Exhibition Centre (BEC), the Euskalduna Conference Centre and Concert Hall, the Guggenheim Museum, Alhóndiga Bilbao and other venues in town.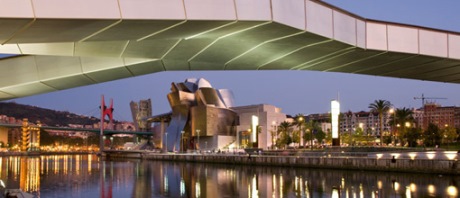 SPRI
In Bilbao's metamorphosis from industrial town to business hub and city of services, a key role was played by SPRI, the Basque Agency for Business Development, an agency of the Basque Government. SPRI promoted the establishment of more advanced and less polluting technology-based and R&D companies in the Historical Territory, thus contributing to the regeneration of Bilbao and its transformation into a big player in the tertiary sector.
SPRI is one of the initiatives of Basque Country Expertise, a project aimed at publicising and selling abroad successful management projects carried out in the Basque Country, developing sustainable cities like Bilbao and finding international business opportunities for Basque companies.
Transport
One of the hallmarks of Bilbao's modernisation is the city's public transport network: ground (underground, tram, Bilbobus, Bizkaibus, Termibus coach station), rail (commuter and long-distance trains) and air (Bilbao International Airport is the main airline hub in northern Spain.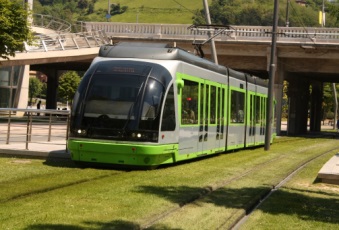 Designed by distinguished architect Norman Foster, the Bilbaounderground is a favourite with local citizens and one of the symbols of new Bilbao.
In Metropolitan Bilbao, Loiu (12km from central Bilbao) makes another icon of the city's modern transport network, as it is home to the airport. Bilbao Airport serves numerous flights from different airlines every day, connecting northern Spain to many cities in Spain and Europe.
Avant-garde architecture
When the regeneration process was completed (cleaning and regeneration of the estuary, increased environmental protection, etc.), it was followed by efforts to transform industrial premises to turn Bilbao into a city of culture, tourism and services. Two of the most special buildings in town thus came into being: Frank Gehry's Guggenheim Museum and the Euskalduna Conference Centre and Concert Hall, by Federico Soriano and Dolores Palacios. They played a major role in the activation of the local travel industry, attracting holidaymakers and business travellers alike, and regaled citizens with inviting green areas for strolls, sports and leisure..
Likewise, Isozaki Atea, the Zubizuri Bridge and the Iberdrola Tower added to Bilbao's image as an avant-garde city – a city that, despite its modern design, never forgets about its traditional heritage: Arriaga Theatre, Museum of Fine Arts, Riverside Market…
Award-winning city
Bilbao's amazing transformation has earned the city a few prizes and awards. In 2010, it got the 1st Lee Kuan Yew World City Prize, also known as the Nobel Prize for innovative cities.
In the first months of 2013, Mayor Iñaki Azkuna scooped his World Mayor Prize 2012, a biennial award organised by The City Mayors Foundation, in recognition of the city's transformation from industrial centre to major tourist and artistic destination. Finally, in late 2013, the Bizkaia Association of Developers and Constructors (Ascobi) recognised Azkuna's role in the transformation of Bilbao with a new accolade.